Matua Jason: – The idea of After school radio came from the students wanting a platform to share some of the exciting work they had been doing in the classroom. My class were so passionate about what they were writing they wanted to reach out to a wider audience. The radio show concept evolved out of those discussion.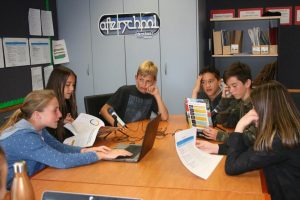 As a collective the whole class are actively involved with the show in some way. They are all highly engaged with connecting with people outside of the class and looking at ways to showcase the school and what is happening around them.
Matua Logan: The show is made up of: Topic of the day-Discussion, debate and opinion about a particular topic; Word of the day-introducing new words we learn in our class, informative and challenging; Teacher interview-gathering information about the likes and dislikes of teachers in our school, really funny; Reading-Some of the best writings from our class.
The raw cut of the above is edited and presented as a complete 30 mins radio show. After School radio show goes on air through two radio stations 3:30 pm on Thursdays and Mondays on Free FM 89.0, Broadcasting and streaming Waikato wide!  5:30 pm on Wednesdays on Raglan Community Radio 98.1 FM