On Wednesday 4 March 2015, the children's author Mr Jim Henderson, alias Cracker Jim came to visit us at Te Rapunga.
The D block classes and Matua Jason's class got to hear him read his stories and entertain us with his puppets. (Apparently E3 had their own special visit too!)
Cracker Jim was a funny farmer, who also showed us how we can all write our own books, using an application for both Android and Apple devices called "Book Creator".
Refer https://itunes.apple.com/nz/app/book-creator-free/id661166101?mt=8 or https://play.google.com/store/apps/details?id=net.redjumper.bookcreatorfree&hl=en.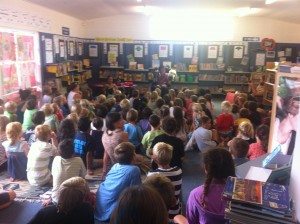 Te Rapunga has now bought his set of five picture books and CDs' about Flossie, the Huntaway sheepdog and her adventures.  We found them amusing and authentically 'Kiwi-as' ; they  gave a big insight into the real issues facing NZ farmers today. The rhyming language was delightful, with a lovely pace for reading aloud.
And while the real dog who inspired the stories did not come in , we did enjoy the puppets of Flossie  and Cracker Jim and acting out being a farmer!  So,  "Get in behind Flossie!" and come and read one of these new books or visit www.crackerjim.co.nz to order your own copies!