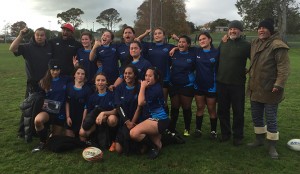 What an outstanding day for girls rugby last Sunday.
A raw but talented Raglan Area School girls team gathered at Elliot Park in Hamilton early Sunday morning to compete in the 10 a-side rugby tournament run by Fraser High School for Waikato Secondary Schools.
Teams from Mercury Bay Area School, Hamilton Girls High (2), Fraser High School (2),Ngaruawahia High School, Morrinsville College and Raglan Area School attended. Sacret Heart was entered but later had to pull out because of injuries.
A tough first game saw Raglan go down by 5 tries to none to Mercury Bay who won the tournament in the last minute against a resurgent Girls High team.
Our second game was no easier being beaten by Girls High who were the losing team in the final. Our side of the draw really was tough. We were beaten 31-5 but managed to score points. No mean feat against New Zealand's national champions from last year.
Then a game against a very well drilled Fraser High School team saw us lost again 20-10. Fraser had a couple of very fast outside backs but scoring two tries of our own was a fantastic achievement for the girls.
Throughout the tournament the team improved by leaps and bounds. Their understanding of the team plan got better and better as the day went on so by the end they were looking like a well drilled, confident rugby team.
Game four – talk about icing on the cake. Our plan for the game against Morrinsville College was to take it up the middle against a smaller set of forwards then spread the ball wide; and it went perfectly for the girls. Eight tries and 5 conversions gave Raglan their first victory for the year and the biggest score in recorded history for Raglan Area School girls rugby teams – 50-0.
Well done girls!
On the last Wednesday of this term the girls have their final game for the season against Ngaruawahia High School. Trainings will continue on Fridays afternoons.