Junior School Newsletter
Years 0-8 Māori Medium, Years 0-6 English Medium
February 2021
Tēnā koutou e te whānau o te Kura ā Rohe o Whaingaroa.  Nau mai, haere mai ki te tau 2021. We are so excited to welcome you all back to school with the hope you have spent the Summer weeks getting your toes in the sand, eating too much, and spending joyous times with your whānau and friends.
Greetings to our new families who have joined us; we hope you and your children settle quickly into our school and community.
2021 sees the Year 0-3 and Year 4-6 teams joining together as a Year 0-6 English-Medium team. This team, along with our Maōri-Medium team, Te Rōpū Aroha ki te Reo, are Kura Teina (Junior School). We are excited about working more closely together, drawing on each other's strengths and increasing tuakana-teina (older and younger students) relationships between students across year levels. This is explained further in the newsletter.
We warmly welcome Whaea Lisa Mitchell (Years 4-6 in L1) Whaea Aroha McQueen (Years 4-5 in Tawera) and Whaea Bonita Herbert (Years 6-8 in Matariki) to our Kura Teina team.
You will notice that our room names have changed. This is to match up with the Ministry of Education's designated names for our buildings. Te Rōpū Aroha ki te Reo class names remain.
We invite all whānau to our whole school hui on Thursday 11th February in the school hall at 7pm-8.30pm. It will focus on school wide goals, what learning looks like and our hauora support structures.  A specific hui for Te Rōpū Aroha ki te Reo will be held on Thursday 18th February, 6-7pm.
Ngā mihi,
Aroha Hohepa (Deputy Principal)
Jeanette Mcdonnell-Rata (Leader, Te Rōpū Aroha ki te Reo)
Hilary Elliot (Leader, Years 0-6 English medium)
Our Kura Teina Team:
Te Rōpū Aroha ki te Reo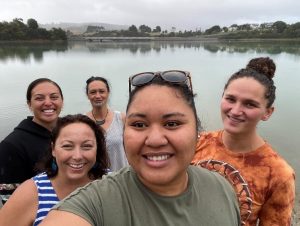 Back Row (L-R): Bonita Herbert, Jeanette McDonnell-Rata.  Middle Row: Aroha Hohepa, Aroha McQueen. Front: Juanita Asi
English Medium Years 0-6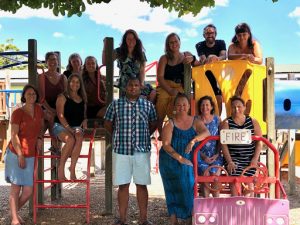 Back Row (L-R): Celeste Cleason, Alison Hewett, Emily Meleshenko, Anni Fries, Hilary Elliot, Nick Wilson, Kim Geros. Front Row (L-R): Amy Haswell, Lisa Mitchell, Jason Engledoe, Sheree Gibson, Steph de Besten, Aroha Hohepa
Important Information
Teaching and Learning: Children continue to learn Reading/Pānui, Writing/Tuhituhi, Phonics/Ngā Oro, and Mathematics/Pāngarau with their teachers/kaiako as appropriate to their progress and development. We continue to learn through play and exploration, using children's interests and passions to launch inquiry learning, incorporating the Arts, Te Ao Māori, Sciences, Technology, Physical Education and the Key Competencies. Our school prospectus is on our website with more detailed information.
Reading in Years 0-3 English medium: We are modifying the way we teach Reading in the junior syndicate to reflect the most recent evidence-based practices through Structured Literacy and the Science of Reading. This may mean that your child doesn't bring home a reader every single day. However, they may bring home words, letters and sounds, or games to practice instead. When they do bring books home, it may be a new text, or it may be a text they are more familiar with and have read before. Both types of text are important in the development of fluent, confident readers. Bookbags need to be brought to and from school each day.
Reo Matatini: Literacy is a continued focus for Professional Development for Te Rōpū Aroha ki te Reo kaiako, led by Ruita Taiapa.
Food Allergies: One child in Year 0-3 English-Medium and one child in Tawera Māori-Medium have a severe peanut allergy. In order to keep them safe, we request that the packed lunches of children in Year 0-3 and in Te Rōpū Aroha ki te Reo do not include peanuts or peanut products. Other nut products are fine (e.g. almond butter).
Swimming: Unfortunately, our school pool is closed for maintenance until further notice. We are looking into further options for swimming, including utilising the moana around the school peninsula. Please make contact with your child's classroom teacher if you would be interested in volunteering time to meet outdoor education ratios.
Sun Smart: We are a school striving to be sun smart. Students are required to wear hats outside during Physical Education and break times. Children without hats will be asked to play in the shade. Sunscreen will be available in each class, but we strongly encourage that sunscreen is applied before coming to school. Please consider clothes for coverage also.
Peninsula Play: Every week, all classes across Years 0-3 spend time engaged in outdoor play on the school peninsula.
Naming Gear: We encourage children to take responsibility for their own belongings, so it will be helpful if school bags, clothes, shoes, lunch boxes etc are named. Unnamed gear is very hard to return to its owner.
Toys: The children do not need to bring toys from home to school, and we ask that you support this. We cannot be responsible for loss or damage to such items. Occasionally, a child may ask to bring something special from home to share for news. In such circumstances, we will keep the item safe until home time.
School Hours: School opens to students at 8:20am. It is expected that students do not arrive at school before this time. Classes start at 8:50am and finish at 3pm. As morning tea is not until 11am, it is recommended that children bring an extra snack to have mid-morning in class. Please be at school by 8.40am so children can settle in to their day and be ready by 8.50am
Stay Hydrated: We strongly encourage each child to bring a named drink bottle to school, to keep up their hydration. Only water is permitted in classrooms.
Bus Schedule: Please talk to the office staff who will make the necessary arrangements for you to access the bus. Be aware that addresses dictate eligibility.
Absences: Please remember to phone the school office (8258140) or notify us via School App by 9:15am if your child is going to be absent. Please use these options rather than texting your classroom teacher as they will not be able to check their phone while teaching or preparing for the day. It is part of our system to check that all children are safe at home if they have not arrived at school by this time.
Wellbeing: If your child is unwell please let us know.  If your child is showing symptoms of Covid-19 please contact the doctor and keep your child at home.  (Symptoms: new or worsening cough, fever – at least 38˚C, shortness of breath, sore throat, sneezing and runny nose, temporary loss of smell)
Sports: If there are any whānau interested in Softball (Hamilton on Saturdays) and Touch Rugby (Whaingaroa on Friday evenings) we are looking for coaches and managers.
Tuakana-Teina: Every Tuesday afternoon starting in Week 3 we are holding a full Kura Teina session where we buddy a junior student (Yrs 0-3) with a senior student (Yrs 4-6) for a time to enjoy, sports, games, tabloids and more. This will be a time to focus on our values and a fun time to earn points for our Houses.
House Captains: We are renewing the House system in Kura Teina. House Captains will come from Year 5-6 students keen on leadership. There will be an application process to select two leaders per House. Each term, we will renew our House Captains to ensure we provide leadership opportunities for more students. Students can reapply each term if they wish.
Peer Support Leaders: Again we will open up an opportunity for Year 5-8 students in Kura Teina to be part of the buddy support system at lunch times. This will allow for our senior students to support positive play at break times. There will be an application process to select leaders. This will require training so will start by the end of Term 1.
Assembly for Kura Teina: Thursday afternoon 2.15pm-2.45pm
Teacher Name
Year Level
2021 Class Name
Former Class Name
Email Address
Kim Geros
New Entrants
C3
D2
kim_geros@raglanarea.school.nz
Alison Hewett
Year 1-2
C1
D1
alison_hewett@raglanarea.school.nz
Steph de Besten
Year 1-2
C4
D3
steph_debesten@raglanarea.school.nz
Amy Haswell
Year 2-3
Q1
E3
amy_haswell@raglanarea.school.nz
Emily Meleshenko
Year 2-3
Q2
E4
emily_meleshenko@raglanarea.school.nz
Annika Fries
Year 2-3
Q3
E4
annika_fries@raglanarea.school.nz
Lisa Mitchell
Year 4-6
L1
E1
lisa_mitchell@raglanarea.school.nz
Jason Engledoe
Year 4-6
K1
E2
jason_engledoe@raglanarea.school.nz
Sheree Gibson
Year 4-6
D1
I1
sheree_gibson@raglanarea.school.nz
Nick Wilson
Year 4-6
D2
I2
nick_wilson@raglanarea.school.nz
Rebecca Hishon
Reading Recovery
Reading Recovery room
Reading Recovery room
rebecca_hishon@raglanarea.school.nz
Celeste Cleason
Music Release Y2-6
–
–
celeste_cleason@raglanarea.school.nz
Hilary Elliot
Leader
C0
RTLB office
hilary_elliot@raglanarea.school.nz
Aroha Hohepa
Deputy Principal
Admin Block and

TRAKTR Resource Room

–
aroha_hohepa@raglanarea.school.nz
Juanita Asi
Year 0-3
Meremere
–
juanita_asi@raglanarea.school.nz
Aroha McQueen
Year 4-5
Tawera
–
aroha_mcqueen@raglanarea.school.nz
Bonita Herbert
Year 6-8
Matariki
bonita_herbert@raglanarea.school.nz
Chanel Ruawai
Year 6-8 Pāngarau
Mata Kōkiri
–
chanel_ruawai@raglanarea.school.nz
Jeanette Mcdonnell-Rata
Leader
C0
RTLB office
jeanette_mcdonnell-rata@raglanarea.school.nz
Glossary
kura: school
teina: Younger siblings
tuakana: Older siblings
Kura Teina: Junior School
Te Kura ā Rohe o Whaingaroa: Raglan Area School
whānau: family
hui: meeting