Tēnā koutou e te whānau.
We are excited to let our whānau know about the impending move into our new collaborative spaces in the next week or so.   By the end of Term 2, all three Yr 5/6 classes will be in their new building. We also welcome our new kaiako Whaea Jaime Paulin who will be taking over from Matua Jason. 
The new spaces have been built for collaboration but the three classes will remain single-cell teaching for the time being.  The classes, with support from the Senior Leadership Team (SLT) and current professional development, will work towards collaboration during the next two terms.  It is envisaged that by 2023 the space will be a fully functional modern learning environment. 
The benefits of working in a collaborative space are to utilise the power and diversity of many people's skills, expertise, ideas and thinking to enhance outcomes, for both our learners and ourselves. We already collaborate at many different levels, and with different people; within the kura teina team and across the school.  Collaborative teaching allows for greater flexibility, personalisation, and varied ways to differentiate and respond to student needs. 
What's in it for students?   Working with a range of peers, working collaboratively to solve problems, opportunities for wider friendship groups, wider curriculum opportunities and more targeted approaches for extension and remedial attention. 
During Term 3, we will be opening up all our teaching spaces in the Kura Teina team for whanau to visit after school and see the awesome mahi that has been going on.  SLT are available to answer any questions you may have regarding the move.  Feel free to email me at haylee_webber@raglanarea.school.nz or call the office to make an appointment. 
Ngā mihi
Whaea Haylee Webber (DP Kura Teina)
Introducing Whaea Jaime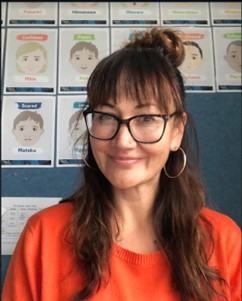 Ko Tainui te waka,
Ko Pirongia te maunga,
Ko Kawhia te moana,
Ko Mokai Kainga te marae,
Ko Ngati Hikairo me Ngati Wairere nga iwi
Ko Ngati Pare te hapu,
Ko Jaime Paulin toku ingoa.
Kia ora e te whanau. My name is Jaime and I'm very much looking forward to joining the team at RAS. In the past, I have worked as a senior teacher and team leader and fulfilled other leadership roles within intermediate, correspondence school, and special school environments. I have taught in both single-cell rooms and flexible learning environments (FLEs) and on online platforms. My pedagogy centres on people, ako and whānaungatanga. Creating and having mutual trust and respect for the people one works with and drawing on the collective strength, knowledge and hard work. I believe that my role is to empower children to become lifelong learners and prepare them for the challenges they will face.  My vision is to work with others to create a climate that is collaborative and innovative and ensures that students' needs and learning, in their many shapes and forms, are always at the forefront of decision-making.
In my spare time, I enjoy spending time with my children and catching up with friends.