****NOW OPEN TO PUBLIC ON SATURDAY  9 May 2015 from 10-12pm as well****
The Real Art Roadshow – a truckload of original NZ Contemporary Art is coming to RAS next term, on Thursday 7 and Friday 8 May 2015.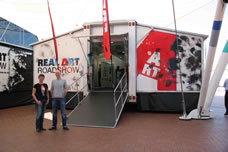 "The mobile art gallery unfolds to form a 80 square metre space and displays           over 60 original artworks by some of New Zealand's leading artists. New                   Zealand's biggest travelling art collection. see the artwork"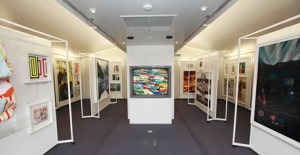 "What is the objective of the Roadshow?
The Real Art Roadshow aims to give students interested in art the opportunity to see the real thing; to be inspired, challenged and 'wowed' by the true scale, texture and colour of original artworks, no matter where they live or where they study."                          
Quotes are from the The Real Art Roadshow website (accessed 1.4.2015)
Why are they coming to RAS?
Whaea Jeanette has invited them to come , so our own students and school community can be uplifted and inspired on their own creative journey!
Ask your teacher to book in a time with Whaea, as they are only here for two days and we want everyone to get the chance to see the real thing!
How much does it cost?
"The Real Art Roadshow visits are FREE for schools and FREE for students. The visits don't even require on-site handling by school staff! It's all about making it easy for the schools to enjoy the experience. The Roadshow is run as a not-for-profit organisation and relies on the generosity of others to keep it trucking!"
Just make sure your class is booked in to see the show, through Whaea Jeanette: jeanette_mcdonnell-rata@raglanarea.school.nz.
Classes from other schools in our area are being invited to take the tour as well – this is too good not to share!
What art  is coming on the truck?
A selection of 70 artworks are coming, from a collection of 120 leading and emerging NZ artists.
We will have an 80 square metre art gallery at our school!
Come into Te Rapunga now before the truck even arrives, and browse the "Big Book of Essays". This is a very BIG book with an A3 poster about each artist and piece of art  in the collection.
Which art do you like the most?
We also have a small picture list  on display in the non-fiction section in Te Rapunga. Put a small tick next to the one you most want to see in real life, when your class comes to the library.
Make your own art?
Maybe your class could choose an artist and/or piece of art from the tour to study?
And then maybe … you could each make your own piece of art, in the style of that artist in Term 2!
AND THEN MAYBE … we could have a big  RAS ART SHOW of all our students' work!
Let's talk about ART and TRUCKS … and LEARNING!