Kia ora whanau and families of Te Kura a Rohe o Whaingaroa, Raglan Area School.
The BoT have begun a month long consultation with the community beginning Sat 6th of November in the Town Hall at 10. Please take the time to attend or to complete the online surveys for the BoT to enhance their development of the School's Charter.
The two new roll growth classrooms are completed and will be blessed on Monday 13th November at 9:00 a.m. These classrooms will be used for junior secondary teaching spaces and are an exciting and necessary addition to our teaching spaces.
All are very welcome to attend the blessing and have a look through the new building. There will be a 'cuppa tea' afterwards for guests.
Students from across the school are heading out on camps to various exotic locations and I would like to thanks the fundraisers, staff and parents who make possible these trips that are highly memorable events in young peoples education.
Senior students are beginning to sign off from attendance at school and going on to study leave provided they have achieved their learning goals. There are also day long subject hui before each exam to support our learners entering exams and further support for students to achieve
The environmental programme Papa Taiao successfully piloted this term is now likely to be initiated within the senior curriculum for 2018. This will provide another pathway for our senior students that celebrates the communities engagement in the environment and the opportunities for future opportunities.
Senior Prize-giving was last Friday and we had a great night celebrating our senior students achievements.  It was followed by a leavers dinner for those that are 'off on the adventure of their lives'.  We do wish them all the very best and the greatest happiness for their futures.
Nga mihi
Malcolm
Year 10 NCEA Preparation
RĀ MAUMAHARA   Day of Remembrance 28 October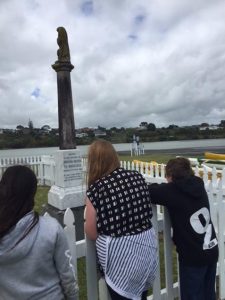 Whaea Lizzy's Māori lessons (Year 0-6) and Social Studies (Year 9) this term, have focused on NZ history in acknowledgement of our first official national day of remembering the NZ Wars. This date is the anniversary of the Declaration of Independence signed in 1835 by Northern and Waikato rangatira. Thanks to Jay Lucas (Ngati Koata, Huiacomehome.co.nz ) who came and spoke most entertainingly to Year 9, about the context of the Treaty of Waitangi last Thursday.
Government/Media interest this year has been on the battle of Ruapekapeka Pā in Northland. But locally, there have been two community workshops, one on the treaty and the second on local Raglan stories. This photo shows some of our Year 9 visiting the monument and grave site of Te Awaitaia (tipuna/ancestor of some of our RAS whanau) located at the boat-ramp. Well respected by his own people and Pākeha of the time, this Ngati Mahanga-Haurua rangatira lived and died on his hapu land, PAPAHUA which is incorrectly known as Te Kopua. He is famous for his kīwaha "Mahia te pai", translated as 'act with integrity' a beautiful whakaaro or motto for modern contexts too.
Ping Pong Ball Roll
Y5 – 6 Camp fundraiser
Ping Pong Ball Roll
$200 prize for the first ping pong ball to reach the bottom of the course
Tickets  $5 each
All ping pong balls will be numbered. Purchase a ticket to receive the number of a ball.
Takes place on Friday 17th November
Tickets available from I2 (Whaea Tracy and students), and E2 (Whaea Donna and students)
Please supply name and contact phone number with your purchase. Thanks for your support!
Change of Address/Contact Phone Numbers
Please remember to update your details with the school office when moving to a new address or changing your phone numbers.