Kia ora te whanau o Te Kura a Rohe o Whaingaroa
It was great to see Kora win the Regional Sports Award as documented in the chronicle. Surfing is a great passion for him and we wish him continued success. Many of our students enjoy surfing and again we are interviewing for places in the surfing academy for 2018. Usually there are more applicants than places and our local students do get a preferential opportunity. I am sure that Kora and others will be looking forward to that opportunity.
I apologise for the confusion around junior sportsday which had to be postponed due to an unforseen clash of use in the hall. Students times were taken in trials and the athletics day to establish selections for the Western Cluster Athletics. Today was a fantastic day, some light rain took the heat out of the early afternoon and we were able to add into the programme the 200m and 800m races. Thanks to all those who attended to support our students.
The blessing for the new classrooms was postponed due to Tangi and re-doing all the concrete. It is now on Monday 4th December at 9:00 a.m. All are very welcome to attend the blessing and have a look through the new building. There will be a 'cuppa tea' afterwards for guests.
The BoT are about to complete a month long consultation with the community. If you are very quick you could still get your feedback  completed on the online surveys for the BoT to enhance their development of the School's Charter. There is a link on our website.
Senior students finish external exams this week and almost all are ready to sign out having completed their studies. Our results across all NCEA and UE qualification are much improved and above national averages.
A reminder that all are welcome to our up and coming prizegivings.  The dates are:
5 December   Te Ropu Aroha ki te Reo prizegiving
7 December  Year 7-10 prizegiving,
13 December  Year 0-6 prizegiving
Nga mihi
Malcolm
Radio Stars
The idea of After school radio came from the students wanting a platform to share some of the exciting work they had been doing in the classroom. My class were so passionate about what they were writing, they wanted to reach out to a wider audience. The radio show concept evolved out of those discussions.
As a collective, the whole class are actively involved with the show in some way. They are all highly engaged in connecting with people outside of the class and looking at ways to showcase the school and what is happening around them.
Matua Jason
The show is made up of: Topic of the day-Discussion; debate and opinion about a particular topic; Word of the day-introducing new words we learn in our class informative and challenging; Teacher interview-gathering information about the likes and dislikes of teachers in our school, really funny; Reading-Some of the best writings from our class.
The raw cut of the above is edited and presented as a complete 30 mins radio show.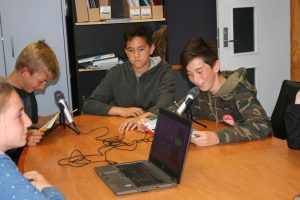 After School radio show goes on air through two radio stations.
3:30 pm on Thursdays and Mondays on Free FM 89.0, Broadcasting and streaming Waikato wide!
5:30 pm on Wednesday on Raglan community Radio 98.1 FM
Matua Logan
Senior Prizegiving
Our Senior Prize Giving was held earlier this year to ensure that all students had the opportunity to attend. This enabled our Surfing Academy students, who had previously missed Prize Giving to enjoy their moment of glory. However, it has meant that the Top Academic Awards are yet to be announced as not all results are in yet, including the External Exam results.
With an Excellence and a Diligence Award being presented for each curriculum area, together with the number of Excellences and Merits gained in each subject, we were able to ascertain the three or four Top Achievers for each year level at this stage.
They are:
Year 11: Isabella Marseglia, Sven Seddon, Sequoia Gavin-McCabe and Kate Madsen
Year 12: Emma Blaikie, Jay Piper-Healion, Aimee Brown and Maia Skegg
Year 13: Joy Hunter, Bhumika Patel, and Lee Ririnui
The following Year 13 students also won university scholarships: Joy Hunter, Amy-Mei Putaranui-Browne, Lexi Holmes, Sean Dillon and Liam Dingle. These were presented by Professor Holly Thorpe, from Waikato University.
Our guest speaker was Luke Hughes,  an ex-Head Boy of Raglan Area School and a local businessman. Luke spoke fondly of his time here. He gave some aspirational messages to the student body about goal setting and living one's dreams.
The Year 13 School Leavers then shared a final meal together at Orca.
Stevie Gardiner
Dean Year 12
Year 5&6 Art Competition Entry
The year 5 and 6 syndicate have been working on an inquiry project; 'Protecting the Planet'. Nevaeh Ringia, a talented year 6 student from I2, designed this incredible mural for our kura, depicting our school values. Three of the anime characters are her original designs.
Nevaeh explained, "I created these anime characters to represent the four values of our school. The planet would be a better place if everyone cared for it using Manaakitanga, Poutama, Kaitiakitanga and Whakawhanaungatanga"
Nevaeah, Heiana and Kayla then painted the mural using Resene paints and entered the mural into the Resene Mural competition. "I'm super proud of them all. A lot of time, thoughtfulness and energy went into this project. They worked on this design and creation during inquiry time and in their own time as well. I wish them all the best" – Whaea Tracy.
Year 0-2 Beach Day Picnic and Update
Tuesday 5th December at Te Kopua.
Leave school at 9.30am.  All welcome.
Return to school by 2.45pm.
Please ensure children have suitable shoes, clothes, sunblock and a hat, food for the day, and a big bottle of water.
Swimming only if permission slip has been returned, and weather dependent.
Postponement day: Thursday 7th December.
New Entrant class Open  Morning: Wednesday 9am-12MD.  Please ask whanau who have children turning 5 in 2018 to pop in.
Year 0-2 Parent Progress Meetings Wednesday 6th December 1pm-6pm.  These are only for families of children who have completed 6 months, 1 year , 18 months or 2 years at school. You will have received a notice if this is the case.
Calendars have been distributed.  We hope you are pleased with them.  If there are any issues, please see the class teacher as soon as possible.
Please check if you have any of our school readers still at home, and return them to school asap. If anyone has a couple of hours free on Monday 11th or Tuesday 12th to help put away readers your time would be appreciated. Please see Whaea Celia.
A big thankyou to all whanau who have supported us this year.  See you at the final prize giving assembly at 10.30am, Wednesday 13th December.
Have a safe and happy break and recharge the batteries ready to begin the 2018 school year on Wednesday, 31st January.
Whaea Celia, Amy, Jane, Rebecca and Linda.
Raglan Area School Golf
We had a great turnout up at the Raglan golf club on Wednesday afternoon, at our second to last weekly golf coaching session of the year. This week we were lucky enough to have Ben from Waikato golf come up and share some of his wisdom, and let us have a go with his cool coaching equipment. It was awesome to see so many kids up there, and also great to see so many keen golfers from our neighbouring primary schools (Te Uku, Waitetuna, Te Mata). It's our last coaching session of the year next week Wednesday 6th December, so we look forward to seeing you all there!
The Great Raglan Rat Race
Come help us launch the Karioi Backyard Hub Trap Library
Registration will take place in front of the Raglan Library on Friday 8 December between 5 and 6.30pm – come down to register, be trained in how to safely use the traps and take some home.
Prizegiving and BBQ on Sunday 10 December at 2pm at Te Kopua near the changing blocks.  Look for the green marquee.
The Karioi Trap Library offers traps to locals for up to 3 months at little to no cost.
Want to know more? Nic – Backyard Hub Coordinator
email karioi.backyard@arocha.org