Kia ora te whanau o Te Kura a Rohe o Whaingaroa
Theatre Sports Success 
A huge congratulations to Sasha, Jack, Connor and Mason and to their dedicated teacher Ruth, for their impressive win at the Regional Theatre Sports competition where as first time entries from Raglan Area School they won the trophy against Hamilton schools. An outstanding performance received with such modesty! Well done indeed.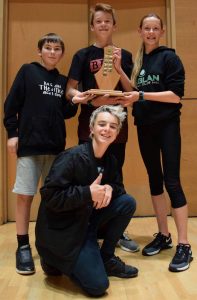 A reminder to save Saturday 9th September for a working bee at school if you have some time from 9am till 12:30.
Refreshments and sustenance will be provided.
Classroom Update
The basketball court is rebuilt, the 'flash' new classrooms have been completed inside and are looking to be finished at the end of term. The ministry visited last week and are impressed with the quality and the outcomes for our school.
Senior Students Heading into Exams
With four weeks left in the term we are anxious that our seniors work hard to complete assignments and have them handed to teachers in a timely fashion. When you consider that the first external exams have now been brought forward to the 9th November, teaching time is now getting short. Please encourage and support our senior students to prioritise their studies.
"ERO Use Raw Data To Make Judgments" 
I love data and hate the way it can be manipulated, so I find it a challenge not to become overly defensive. However, when ERO use raw data to make judgments I find it hard to resist. An example is, we were challenged about our University Entrance rate needing to improve. On the raw data, fair enough; however, they took all of the Year 13 enrollments with no cognizance of the students who left during the year to jobs, WINTEC, etc.  So in rebuttal I would like you to know that of those students who remained and completed the year the University Entrance rate was 15 of 22 students which is 68% and higher than the national average of 49.2%. The message is that students who determine to stay are most likely to also achieve University Entrance alongside their Level 3 qualification (where ERO indicated we were well placed).
I did enjoy reading their page of great comments in student teacher relationships, student health and safety, community engagement, cultural competency etc. tera, all of which are charter goals for our school being very effectively met.
Nga mihi
Malcolm