E ngā mana, e ngā reo o te hapori o Whaingaroa tena tatou katoa.  Ngā mihi matakuikui, ngā mihi matakoakoa i tēnei wiki i a tatou e whakanui nei i te reo Māori.
Kia ora whanau it's been a busy few weeks and there is much to be thankful for.  Thanks to all who contributed to and attended Matua Malcolm's a.k.a. Mr Cox poroporoaki on Wednesday and into Wednesday evening.  It was heartfelt and well received by Malcolm and his whanau.
Thanks to Whaea Kerry and the wider school for putting together an amazing arts event on Friday evening.  We appreciated the positive feedback from the community.
He mihi mutunga kore ki a Kylie me te tina e whakanui ana te wiki o te reo Māori. Miharo! Ki o rahi, battle of the atua (soccer), kai tahi, reo in the yard, kapahaka.  Lots of awesome things happening.
Congratulations to our TheatreSports team for coming second at the Waikato Secondary Schools Finals.
Congratulations to our bronze medallist Zundea Barry in Slope style Waikato Snowboard Champs.
Looking forward, Mike King is visiting with our Year 7-13 students, speaking about "well-being".  This session is for students only. He will then speak to the community at the Raglan Club at 6.30pm. We have senior exams for NCEA next Tuesday to Thursday.
Congratulations to our Shave for a Cure whanau Ngaramai for organising this and the fantastic community support, and to our local barbers for their koha of time.
Congratulations to Tawhiri Barber Salvation who came 2nd in the mens National Cross Fit competition in Cambridge.
Ngā mihi
Quenten and Aroha
Join our newly formed RAS PTA group!
We were joined by a group of keen parents on Monday, 10 September at 5.30pm, to form a new PTA group for our school. Our key objectives are to:
Foster relationships between parents, whanau, teachers and Board of Trustees
Share information with parents and the wider community
Raise funds to provide improved facilities and opportunities for members of the school community
Provide a forum for parents to discuss school-wide issues
At the meeting we formalised the rules and roles of the group and discussed ideas for initial fundraising projects as well as how we can get more whanau involved. A big focus is to have a consistent way of raising funds year round so that we have money available in the bank in order to contribute to school projects, school camps and other fundraising initiatives. We would love for as many people to get involved in our PTA group as possible. Anyone can become a member, parents of current or future students, and any interested adults. Even if you're only available some of the time, any help/involvement would be much appreciated. Please contact us via: pta@raglanarea.school.nz. You can also join our Facebook page at: Raglan Area School Whanau and PTA Group.
All the best,
Inger Kite
RAS PTA Chair
Te Wiki o te Reo
On Wednesday, as part of te wiki o te reo, we had a full school shared kai. The weather was sunny and warm and the kai plentiful.  It was a perfect afternoon.
Student Wellbeing
We are excited by the opportunity to meet and hear from Mike King on Monday 17  September at 1 pm in the school hall. His kaupapa of well-being is currently being toured around the country. We have invited our local schools to attend this event for Years 7-13. That evening, Mike will present to the general public at the Raglan Club on Bow Street at 6:30pm.
Poroporoaki for Mr Cox
Matua Malcolm's Poroporoaki- thoughts from D2 (*New Entrants)
Matua Malcolm's poroporoaki celebration was cool and the kids are playing in the playground.  By Zoe Leigh
We had a poroporoaki celebration for Matua Malcolm.  I think he liked our singing. By Zoe McKegg
I looked at Matua Malcolm at his poroporoaki.  We sang the songs "Tirama Tirama" and "School is Number One".  Matua Malcolm was happy. By Hawaikii Gibson
Goodbye Mr Cox.  Mr Cox came to see us at school and we sang songs.  By Kaiwakamaitawhiti Riki
We did a haka in the hall. Mr Cox liked it. By Amadeus Hounuku-Tobin
I went to Matua Malcolm's poroporoaki at the hall.  We did the haka! It was loud! By Fletcher Adams
Out and About with Whaea Aroha
Coromandel Exchange
It has been a few years since the school had a sporting exchange. This year Coromandel Area School came to visit and play sport against teams from RAS from Year 7 to 13.
All the games were played in good spirit, and many aspects of fair play were displayed by both schools.
Students were involved in officiating games and a big thanks to the following students and staff who refereed games: Soccer: Harry-John, Adi-Grace, and Matua Pete; Netball: Johnny, Paris, Grace and Whaea Stevie; Basketball: Matua T, Rangi, and Awatea; Volleyball: Matua Larry and Matua Jason.
A big thank you to all families who supplied a plate for the shared lunch on Friday. Read on for the results of the games:
Netball
Y7 & 8 Girls RAS 25-14
Y7 & 8 Boys RAS 17-15
Y9 to 13 Girls CAS 20-12
Y9 to 13 Boys RAS 10-8
Soccer
Y7 & 8 Girls RAS 9-0
Y7 & 8 Boys RAS 4-1
Y9 to 13 Girls RAS 3-0
Y9 to 13 Boys RAS 6-5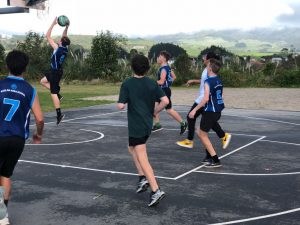 Volleyball
Y7 & 8 Girls RAS 2-0
Y7 & 8 Boys RAS 2-1
Y9 to 13 Girls RAS 2-0
Y9 to 13 Boys CAS 2-1
Basketball
Y7 & 8 Girls RAS 35-15
Y7 & 8 Boys RAS 36- 17
Y9 to 13 Girls CAS 22 -12
Y9 to 13 Boys RAS 22- 21
Thanks for coming, Coromandel Area School!
Shave for a Cure
In honour of fighting Leukemia, a group of students who wanted to shave their hair off for a good cause.
Last week's assembly was a lot more entertaining than usual. Everyone from Year 0 to Year 13 assembled in the hall to watch as a small group of students made their way to the front. These students were keen to support Ngaramai, our Deputy Head Girl, by shaving off their hair alongside her.
Everyone held their breaths as one by one, each student's hair got shaved off and collected. All the hair that was collected will be donated and made into wigs for people who don't have the privilege of having their own hair. "I'll never take hair flicks for granted again," says onlooker Zara Beeby.  
Donating money is always easy. But donating your own hair can be scary, especially after you observe your own cut ponytail. Some of the
students who stepped outside of their comfort zone to donate to desperate people around the world include Ngaramai, Jaime Witters, and Mickey Brajkovic.
A guess-the-lollies-in-the jar competition is also being held, and students could be in to win the jar of lollies or a lion toy.  
Everyone is very proud of the people who decided to shave for a cause, and I'm sure the people who are to receive the hair are also grateful.
Ayla Standley, Y8, C4
A Peek at RAS A TOI
Theatresports Finals
The Gallagher Academy of Performing Arts in Hamilton was shaking with laughter last night as the Waikato Secondary School Theatresports Finals took over the theatre.  
Congratulations to our Raglan actors who gave everyone an incredible run for their money, providing laughs and ridiculous storylines – it was a night not to be missed.  Raglan came in 2nd place, sitting only one point behind first place – fantastic work!
An excellent job by Raglan, showing the region what we have got once again!  The team comprised of Connor Marquand, Summer Maybee-Waitere, Zoe Oliver and Iemaja Hassell who worked hard in competition and practices all year. Well done team!       – Ruth Hare
Celebrating Success
Year 5-6 students celebrate success every week at our syndicate assembly on Monday's at 11.30. We are very proud of the way they all show success in different ways, and these are acknowledged alongside our school values.  Ka rawe tamariki mā!
A Modest Request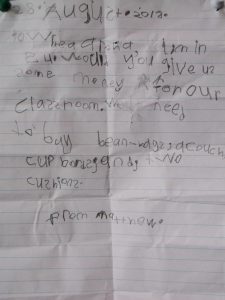 It just goes to show, nothing ventured, nothing gained. Last week a young man by the name of Matthew Fyalka (and perhaps not so much a man yet, given he is a Year 2 student from Whaea Anni's E4 classroom), had a considerate thought about his classroom environment. Money being the obstacle, he wrote a letter to Whaea Aroha, a modest note requesting money for items he considered would be an invaluable asset to his classroom and would be for the good of all his fellow classmates.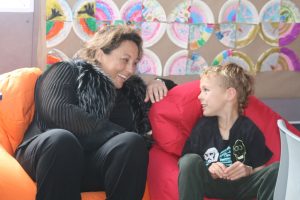 Making sure the NZ Postal service had no opportunity to lose his letter, he delivered his letter in person (he even had to make an appointment to see Whaea Aroha because she was really busy). Matthew went back to class and carried on with his learning.  
You wouldn't believe what Whaea Aroha had, ready to be rehomed…that's right, she had two bean bags which she happily took to E4 and presented to the class!
School Events Calendar
| | | | |
| --- | --- | --- | --- |
| Week in the Term | Date | Syndicate | Event |
| Week 8 | 14 September | Year 1-9 | Disco |
| Week 9 | 17 September | Year 9-13 | Mike King presentation |
| | 20 September | Year 2-4 | Xtreme  Waste Visit and Beach Clean Up |
| | 21 September | Year 0-8 | Western Cluster Kapa Haka |
| Week 10 | 23 September | Year 12-13 | Snowboard Comps |
| | 28 September | All School | Last Day of Term 3 |