Tena koe e te whanau
Greetings to all of our whanau and to our students.
Yes it is hot and yes very humid and we are doing our best to ensure classrooms are as cool as is possible and taking advantage of our school pool. Hats are of course essential when students are outside so this is a reminder that 'bucket hats' are available with our school logo through NZ Uniforms in Hamilton.
Push bikes are once again establishing themselves as a very suitable means of getting around for our youth, and again a reminder that we would expect our students to be wearing helmets and we recommend them to skateboarders also.
I am hoping that the new format newsletter is bringing you pleasure and more information about our students, their learning and successes. I would appreciate any feedback on the new format, though I confess we are still fine tuning to get best outcomes.
Next week we will be interviewing candidates for the position of Deputy Principal for Yrs 1-8 and we are excited by the number and quality of the applicants, and I am excited and looking forward to having the leadership team back up to full strength. In the meantime much thanks to Quenten who is shouldering a greater load.
If you read the Waikato Times you will have noted, I hope, the debate and research around homework. Look to an article to be published shortly on this subject on our website. As with many practices it is contentious and folk have a variety of expectations so I am happy to advise the research to you.
Please take very great care coming up and down the rear entrance to our school, and if you are driving please be very cautious and also avoid parking where the bus turns around. The whole school is particularly challenging for parking especially in wet weather and requires all of us to be extremely cautious.
I am delighted to announce the appointment of a new Sports Fit Coordinator, Nikki Abrams, who is already known to many of you. We welcome her and are really looking forward to  having her work with our students.
I have had several queries regarding having dogs on site and would have you note that there is signage around the site alerting us to that. That may be an affront to those of us who love our dogs and believe them absolutely safe.  However, I would ask you to note this. Of greatest concern is the free ranging of dogs on the fields for exercise as they may also use the field for toileting.
Our students have settled very quickly and teachers are in full swing with learning and eventing. Thank you to all that make this possible.
Nga mihi
Malcolm
Year 7 & 8 Immunisations
The following immunisations will be undertaken this term:
Year 7 immunisation for Diphtheria, Tetanus and Whooping Cough
Year 8 immunisation for HPV (Human Papillomavirus) which can develop into cervical cancer and other HPV related cancers, will be undertaken in two doses within the year.

Consent forms will be sent home with every Year 7 and 8 student. Please complete and return to the school office. There is provision within the form for your non-consent, should you wish for that. Please return all forms, regardless if they are for consent or non-consent.
As part of the programme, information will be given to each student. If you do not want your child to receive this education and/or to view the presentation the Public Health Nurse uses, then send a letter to the office so that your child can be removed from that class presentation on the day of the education session.
Science Club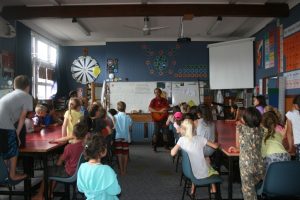 The ever popular Science Club is back for another year of excitement, explosions and exploration in 2K18.  Mr C  is often accompanied by a band of very capable and  caring senior science students that lend their time to help inspire the minds of our young budding junior science students.
Science Club started the year with a bang (literally) as the students learned about and experimented with the first atom in the Periodic Table of Elements – Hydrogen. Hydrogen, having only one electron, reacts readily with other elements producing a wide range of substances including my personal favorite H20 (great for surfing!). Hydrogen can also be separated from substances, such as hyrdrochloric acid, leaving pure hydrogen in its gas form ready to combine  with oxygen and explode!
Next week Science Club will move onto the next element in the Period Table – Helium (be prepared for some high pitch laughter and objects floating off into space).
Te Kopua Memorial
The 12th of February was the 40th memorial date of the arrests on the Kopua of 17 young people, including Tuaiwa Hautai Eva Rickard, as they gathered on the urupa for karakia and the re-sanctifying of the whenua. A contingent of Raglan Area School students supported the memorial day. Matua Sean spoke to them of the historic occasion, and prayers of rededication were recited before a picnic lunch was enjoyed by all.
Students from Whaea Gabrielle's class, I2, recount moments of the day:
I was sweating 'cause of the hot, desert-boiling sun. We were going to amazing Eva's grave. She was an amazing person. She got land back from wicked and bad people who stole their land. We spent a looooong, hot and sweaty day at Eva's home. Isobel Peart, Year 5.

Trudging across the pathway, we slowly walked to the Kokiri, taking our precious time. We were all slowly melting to death. Sweat wiggled down our faces. When we arrived, I collapsed and crawled my way to a nice dark spot. I didn't hear a word until someone yelled. Very, very slowly, we made our way to Eva Rickard's grave. By now, I felt like sleeping. We got sprayed with a hose, we were all slowly cooling down. It felt like heaven. But sadly, we still had to back. This time, it felt longer than ever, but of course, we got there in time. Can't wait to do it again next year! Heiana Ralaimihoatra, Year 6.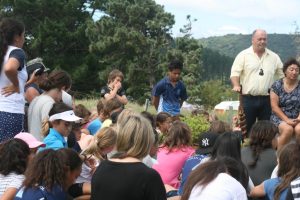 Year 9-13 Soccer Muster
ONWARDS TO VICTORY!
Love football?  Fancy playing for an awesome school team? Want to get fit and wear a flash strip? Then this is definitely for you!  Get along to our school
When: Friday 23rd outside the school hall from 1.20pm onwards.
Open to years 9 – 13 WELCOME! Young men and women
Free sausage sizzle for serious soccer enthusiasts. Come sign up with Lisa and Sarah aka Soccer Divas.
Lisa Thomson Parent Representative Raglan Area School BoT
Mobile 0211 798 256
Surfing Results
It is great to see that our school is doing so well in the New Zealand Surfing circuit of National events. At this years New Zealand National Champs held in Gisborne over the summer break, Raglan Area School finished with four champions:
Jayden Willoughby Under 14 boys;

Brie Bennet Under 16 girls;

Kora Cooper Under 16 boys;

Conor Mc Lennan Under 18 boys.
Event Two of the Billabong Grom series held in Whangamata last weekend was once again dominated by Raglan Area School students.
Below, Jayden Willoughby (L) won his 3rd event in a row taking out the Under 14 boys. Navryn Meddings-Malone (R) finished 2nd.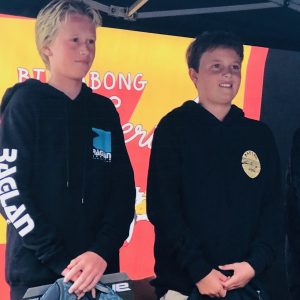 In the Under 16 girls Brie Bennett (R) placed 3rd, and Georgia Wedderel (L) placed 4th.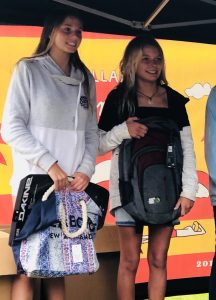 In the Under 16 boys, Josef Jungwirth (L) won with an impressive display of surfing, with Kora Cooper (R) finishing close behind in 2nd.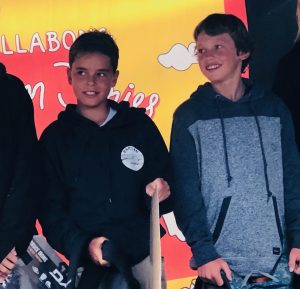 Aimee Brown (L) won the under 18 girls division.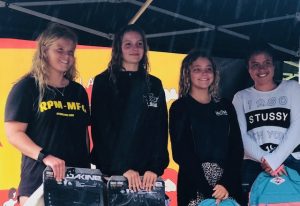 In the under 20's, Lily McDonald (R) finished 2nd to ex Raglan Area school student Raiha Ensor (L).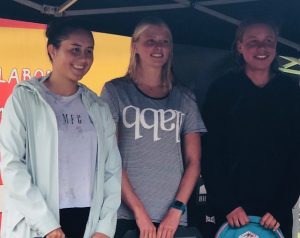 Year 0-6 Update
What's Happening in the Classroom?
Year 0-2 (D-Block)
All classes have settled well, and our new students are quickly learning their way around. On Friday last week, D-Block was a sea of red as we dressed up for the first of our colour themes. This week it's orange, followed by yellow, green, blue, purple, black and white and then rainbow weeks!
Most of the children are showing confidence in the water and our group instruction is starting this week.
We swim every day, with small group lessons on Mondays, Tuesdays, Wednesdays and Fridays, and a 'free' lunchtime swim on Thursdays.  Swimming is part of the curriculum, so please send togs and towels (named) along every day, regardless of the weather in the morning, unless the child has open sores, or head lice.  Long hair should be tied back.  Swimming caps are available for $2 via the swimming club.  Leggings and long, lined pants are difficult for the children to put back on after a swim, so dressing them in shorts or bike pants is preferable.  If your child is reluctant to swim, please talk to Whaea Celia.
Whaea Lizzy begins Te Reo Maori lessons in our classes on Thursday, which will be great for teachers as well as our learners.
Year 2-4 (E-Block)
We are underway in our learning about Te Tiriti o Waitangi both in class, and during our Te Reo lessons with Whaea Lizzy. Next week we will be heading out to visit Papahua (camping ground/playground area) where we will learn some local history, especially related to the Treaty of Waitangi, and participate in a scavenger hunt. Adult helpers are needed so come along and join us!
We have started our literacy and numeracy programmes, as well as using the school library. Please encourage your children to use the library to supplement home reading.
Swimming is on Monday, Tuesday, Thursday and Friday. See classroom teachers for times if needed.
Please bring a hat and drink bottle to school every day!  
Stationery: Please see Whaea Amy if you need a stationery list for your child.
Student Work
Mathematics in E4
E4 students are getting to know each other through Mathematics. Can you figure us out? Come on down to E4 class and put your maths skills to the test while you learn about us.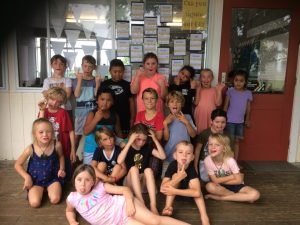 E4 students in front of their 'Can you figure us out?' window display.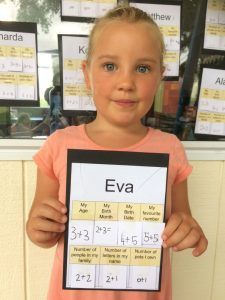 A close up of Eva Clarke's work.
Mathematics in E3
E3 students have been working on explaining their thinking to others while problem solving in Mathematics this week. It is sometimes tricky to get those great ideas out of our heads!
Writing in D-Block
We went on a scavenger hunt. It was fun. – Maya, Year 1, D2.
Scavenger hunting was fun. – Hinewai, Year 1, D2.
I went to the zoo and I saw a penguin. The penguin had one wing.  – Paige, Year 2, D3.
I went paddle-boarding with Mum's friend and it was cool fun.  – Denim, Year 2, D2.
We went to the circus. My dad got called up to help the clown get up on the unicycle. He juggled on the unicycle. Josie got yelled at for moving a seat!           – Esha, Year 2, D2.
Junior Enviro Club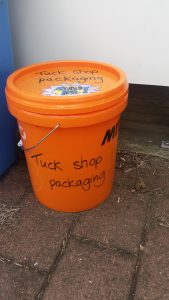 Whaea Amy and Whaea Anni will be working with keen students in the junior school to maintain and improve our school environment.
This Term we will be putting the compostable waste from our 'Super Kai' tuck shop to work as mulch for trees that E-Block students planted last year with Sustainable Coastlines. This will involve lots of problem solving and teamwork along the way!
Year 7-13 Update
Drama Trip
Students from Drama class options from years 9-12, led by their teacher Whaea Ruth, are taking a class trip up to Auckland to the Pop up Globe to see 'A Midsummer Night's Dream'.
The students will be transported four hundred years back in time for the extraordinary experience of seeing Shakespeare's plays performed in the space for which they were written.
The Pop-up Globe is the world's first full-scale temporary working replica of one of the greatest theatres in history – the second Globe theatre.
This new production fuses spectacular Jacobean costumes with Māori folklore and language to create a new production of the comic masterpiece.
– Whaea Ruth.
Earthcare Programme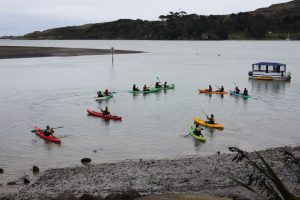 On Friday the 9th of February the Earthcare Programme students had their first outdoor session.  We headed to Te Kopua for a session of bonding games then kayaking. This also was a part of the preparation for our overnight kayaking and camping trip at Okete Falls later this term.
Every Friday, the group of Year 12 and 13 students in the programme leave school at 11.30am for an outdoor experience, returning home at 4.30pm.
The students are going to learn about the Karioi project and be fully involved in pest trapping and monitoring, eventually setting up their own line at Xtreme Waste. We are excited to be working with a large team of outside providers who have set up this course.   – Whaea Ange.