Tena koutou te whanau o Te Kura a Rohe o Whaingaroa
Greetings to all of our whanau and to our students.

Aroha Hohepa our New Deputy Principal will be coming to Raglan in the term break and we are keeping an eye out for a suitable residence for her so, if you have, or know of one please ring Malcolm (825 8140).

Swimming sports have taken place this week in the junior school. It was a delight to see students in the water showing off their skills and I would like to acknowledge the parent support, and the work of our teachers and the local swimming club.

I have received notice from our Lab Technician, Sarah Gambril, that she is leaving us to take up new work opportunities.  We wish her very well and thank her for her work.

Lorna, who has been a cleaner here for many years and recently has been the cleaning supervisor, has let me know that she is moving from Raglan shortly and has also resigned. How does one thank a member of staff who has given so many years service to the school and to our staff?  We will miss her presence in the staff room and her care for our school.

The school has (with the help of the BOT and Tara) adopted and adapted an App to improve communication. For those who are keen to get started, and who can allow staff a bit of time to become familiar with its potential, then if you download to your phone (SchoolApp NZ) and then search Raglan Area School. It is free so please experiment with it. I hope that you find it fairly self-explanatory, (I can use it) and that you will find it more and more useful to you. We will be offering guidance and some training to whanau as we progress with this new technology.

I am giving advance notice that schools are always closed for Easter Tuesday. I also give notice of our two Teacher Only Days next term (Term 2).  The first of which will be Friday 11 May and the second, Tuesday 5 June (following Queens Birthday Monday 4 June).
Nga mihi
Malcolm
School Photo Day is the 27th of March
Student ID cards are $9.50 and are strongly recommended for your teenagers.  School made ones are not accepted by the bus companies which means students often have to pay full price. Classroom photos – your child will  be given an individually named envelope to hand back to the school office before Monday 26 March. If you're paying by cash, please make sure the correct amount of money is in the envelope as it goes directly to the photographer, not to the school.
School PE Uniform and Junior T-Shirts 
Please note: We no longer have any uniforms, including junior t-shirts, on site.  Please purchase these from NZ Uniforms on-line, via a phone call or visit them at 224 Tristram St, Hamilton
HEADZ-UP Teacher Only Days for TERM 2  –  Friday 11 May and Tuesday 5 June
Te Reo Maaori Year 0-8 English Medium
Over the last two weeks, all tauira (students) from Year 3 upwards have completed an assessment of their prior learning in Te Reo Māori. This is our baseline data so we can see their progress at the end of the year.
Apart from that, we're revising our basic patai (questions) using Te Reo o Tainui ( the local dialect). Starting with Ko wai tō ingoa? and Nō whea koe?…What is your name and Where are you from? Whanau can help at home by asking these questions and listening to or practising the answers Ko _____ tōku ingoa … Nō _______ ahau. If this is too easy, tauira should be learning their days and months.
In Years 0-2 we are saying and doing kupu-mahi (action words) like : kanikani, pekepeke, hikoi, omaoma, hitoki, hurihuri, pakipaki as well as waiata to learn parts of the body; Ngā wahanga o te tinana. To support this learning, whanau could google songs "Upoko, Pakihiwi… https://www.youtube.com/watch?v=lo5ZgX2nSwE ", "Hoke Toke …http://www.mp3hn.com/mp3/hoketoke_236681019.html". Join in with your tamariki as they show you the actions!
Get Set Go!
Get Set Go provides educational, developmentally appropriate fun activities for children aged 3-7 years that build and develop children's basic skills they need so that they can choose and enjoy being more active through sport and play.
These skills include:
Physical movement skills
Knowledge & cognitive skills
Emotional & social skills
The programme has a strong professional development component aiming to educate parents and teachers to feel more confident about teaching these skills.  Therefore children therefore increasing the sustainability of the programme objectives is ensured.
The Get Set Go programme is supported by Sport NZ, Physical Education New Zealand and the Halberg Trust.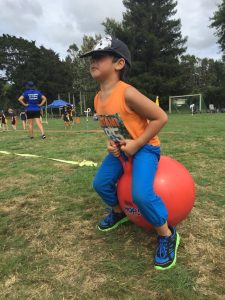 Surprise visit from some members of the Chiefs Rugby Team Today
D Block Swimming
Here are some photos from the D Block, Year 0-2, Swimming Skills Display Day held Wednesday 14 March.
0-6 Update
Maui Dolphin Day
Thank you to all the whānau and community who supported us at Maui Dolphin Day. What an amazing way for our students to share their learning with a real audience! It was a great community event and we were pleased to be involved. The children loved seeing their art works on display and people were blown away by the singing!  
E4 with Peggy Oki, an artist and environmental activist, who came in to talk with the students about Maui Dolphins. The students formulated their own questions, which they then posed to Peggy. They used their findings to create an information display, which was displayed alongside the pictured artwork at Maui Dolphin Day.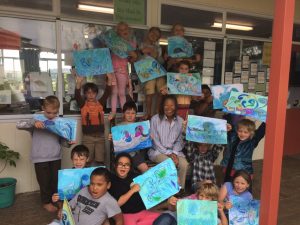 Maui Dolphin Advice from D2 Students
Our children wrote some statements to educate people about the plight of Maui Dolphins. These were displayed on the rubbish net we had on display at Maui Dolphin Day:
Save Maui Dolphins so they don't die. (Imogen)

Look after Maui Dolphins and care for them- keep the rubbish out of the water. (Lucia)

Pick up your rubbish at the beach. (Mahlie)

Save Maui Dolphins – pick up your rubbish. (Audrey)

Don't leave fishing nets on the beach. (Lakoda)

Don't throw rubbish in the sea. (Tuakana group)
The Year 0-6 students showing off some of the work they displayed at Maui Dolphin Day.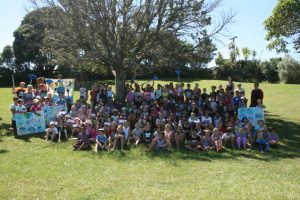 Recycled Raft Race

I worked with my class and whānau on designing, sourcing and building a Recycled Raft, which we paddled and raced to the finish line on Māui Dolphin Day. So proud of our Raglan Area School community coming together to pull this off, and we even came home with a trophy for Best Raft! I would like to take this opportunity to thank Simon Rice-Edwards and Jay Beaudry who gave up their Sunday to mastermind the structural technicalities alongside our students. Thank you also to Vicky Papa, Sean Lally, Andy Standley, Ange Hunter and Will Peart for their time and support. And to all of the RAS community who cheered us on and gave us the final strength to get us to the finish line, ngā mihi nui ki a koutou!   Nā, Whaea Gabriell
Go!!  We started paddling as fast as we could.  We were in a recycled raft race, our hearts were pounding up and down. Determined to win!!  Half way through it, my arms felt like they were broken, but at the end our hearts were beating as fast as a racing car, because WE DID IT!!  Isobel Peart, Year 5, I2
We were almost there. The bridge towered over us, the web in between my thumb and index finger felt like it was falling off. "Wahoo" the people shouted as us. We were in 4th. I felt excited and amazing also, that we were the first class to enter into the Recycled Raft Race in R.A.S. history.  Aari Glover, Year 6, I2
Rat-Trapping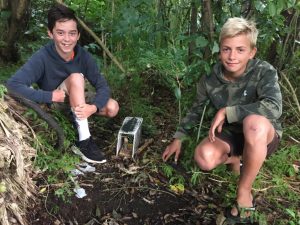 Since everyone came back to school, Matua Pete's Year 8 class has been doing a very interesting project; Rat-Trapping. This involves zipping down to the bush-track, armed with all sorts of smelly tools and old peanut butter. Every week, three students make their way down to the bush track, to clean and set the traps. They usually catch up to two-three rats a week, and have recently just set our stoat record to a grand total of 2 in our history of trapping. "The best thing about doing the trapping is that Matua Pete trusts us to do the right thing, and also we get to spend time outdoors and learn about different types of traps," One student comments after returning, out of breath. The line consists of 22 traps, all along the bush track which are checked weekly on a roster.  Iemaja Hassell, Year 8, C1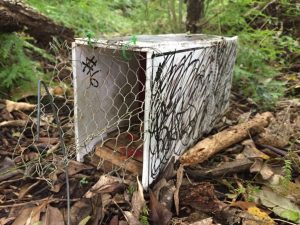 Making Huts in Y5-6
Making Huts – Sol O'Loughlin
''3, 2, 1 GO!'' We darted off in different directions to find a spot. After many tries we found a small sloped clearing down a hill. It was perfect. We emptied out our bags for supplies. Reuben yanked out his long rope and tied it around the two diagonal trees.  Next we pulled out the tarpaulin and threw it over the rope to form a small bivouac. Then we slammed in the huge tent pegs into the tiny circular holes in the tarpaulin. Slowly, our tiny hut turned into a towering high fortress of tarpaulin. It was finished. Or was it?
''What do you think you're doing?''
''What does it look like?''
''Stop it now!''
''No!''
''Yes!''
''No!''
''Yes!''
Then Reuben chopped the string that held the tarpaulin up in half. That shut us up. Quietly, I  hoisted the rope back up and tied it around the tree. We continued until Whaea Donna shouted, ''Home time!'' And we all dashed back to school.  
My Kind of Mansion – Boh Rivers
We tumbled down hills; we hiked up hills; we stomped through the long grass as if we were giants; and we stormed through the bushes. Finally we found the spot. A large bushy tree where we could create a two story hut. There was even enough room for some bath rooms, even lounges and bedrooms, and this one tree could do it all, but we knew we had to stick to the plan.
clear it out

collect wood  

build our masterpiece (hopefully it will be)
So we chopped down branches, collected wood and got to work.
We found logs that were perfect for everything. We made a luxury floor with planks of plywood and we made a seat out of flax that we knotted together.  Then disaster struck.
"I want to sit on the seat!"
"But I'm on it!"
"But I have`t had a go on it!"
"Yes you have!"
"For five seconds!"
This would go on and on until someone would storm off to another room.
That would shut us all up. "Finally peace!" one would say.
One with a red face and one with a grin we would all get back to work. Then Whaea would say, "Come in now time to go to class!"  
"Damn it, I  wish we could stay for longer!" we would all say.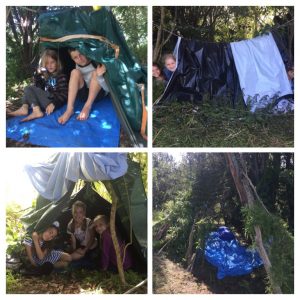 0-6 Update
Notices
D-Block Year 0-2 Beach Picnic: Wednesday, 21 March. Leave at 9.30am, return by 2pm. Gear: sunhat, sunblock, morning tea, lunch, drink bottle, shoes for walking, a jacket, togs and towel if they have permission to swim. Children who have not returned a signed permission slip to swim will not be allowed in the water.
E-Block Year 2-4 Swimming Sports: Thursday 22 March from 11am – 12:20pm.
Life Education: Many thanks to whanau who have paid the donation. If you have not done so, $4 per student Year 1-6, or $6 per student, Year 7-8 can be paid via the office or classroom teachers.
Extra Curricular
Science Club
Moving along the Periodic table, Science Club last week explored the 'Alkali Metals'.
Starting with Lithium (Li), extracted from a rechargeable battery, students investigated how the metal reacts with water producing Hydrogen gas. Next up (or rather down in the Alkali Metal Periodic Group) is Sodium (Na). Solid sodium requires storage in Mineral oil as it will react with moisture in the air. When placed in water the Sodium changes it shape reforming as sphere and then 'buzzes' around on the surface of water before changing its chemical makeup appearing to disappear into the water.
Next, and watch out – Potassium (K) so reactive the students (and teachers) retreated to the back of the laboratory, put on their safety glasses and held on tight! Just over a 0.5g solid metal potassium sample was placed in a water trough which immediately caught on fire – that's right Alkali metals catch on fire when placed in water! Moments after combustion the potassium exploded releasing gas and a firework display of purple coloured metal fragments.
Next, well unfortunately we could not get and Rubidium (Rb), Ceasium (Cs) or Francium (Fr). However Science Club will be back again next week!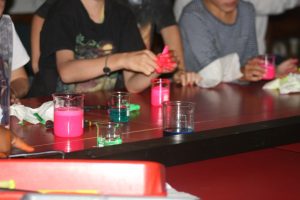 7-13 Update
Basketball
The Year 9-10 boys and girls basketball teams have started getting ready for this years season, which starts in Term 2. We have been training on Fridays at lunchtime, and also after school from 3.05pm until around 4.30pm. We encourage any Year 9-10 students to come and give basketball a go! No prior experience required, just a positive attitude.  Matua T, Jack Donahue, and Rangi Rongo.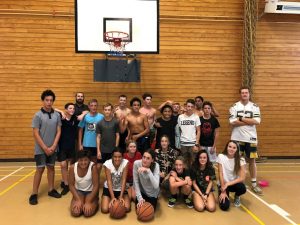 Science
It's test time in the Science Lab, with students now working on their final reports to gain NCEA Achievement Standard Credits.
Students in Year 11 are busy conducting their summative physics investigation exploring the relationship between force and the extension of a surfing leg rope.
Year 12 students are writing their oceanographic reports investigating how water depth affects the speed of water currents produced from tidal movements.
Year 13 students are analysing the non-linear relationship between time and distance on a skateboard launch ramp.
All reports are due this week. I look forward to marking your reports!  Mr C.
Te Roopu Aroha ki te Reo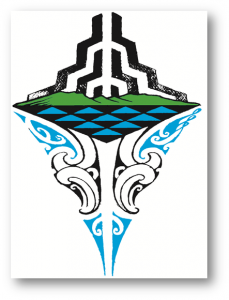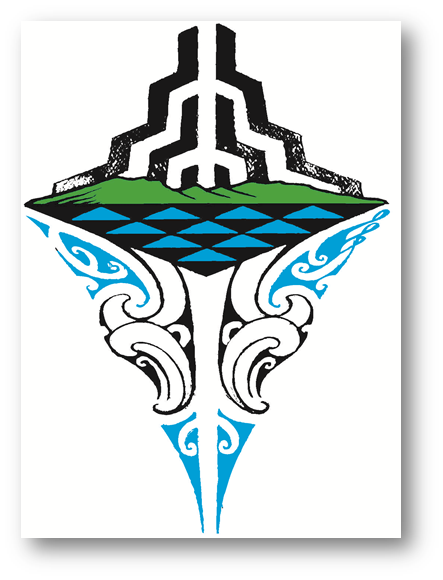 Follow this link to the full Roopu Newsletter 16 March