Kia ora te whanau o Te Kura a Rohe o Whaingaroa
You will know that the Board of Trustees advertised for the position of Deputy Principal and interviewed candidates last week. On Monday night the Board ratified the appointment of Aroha Hohepa. We are very excited at her appointment and are looking forward to her joining us at the beginning of term two.
At the same time the Board ratified the appointment of a new Sports Fit Co-ordinator and we warmly welcome Nikki Abrams to that position.
I will leave space now for Aroha to introduce herself to you.
Nga mihi
Malcolm
Introducing our new Deputy Principal, Aroha Hohepa 
Ngā Puhi­kōwhao­rau, Ngā Puhi­kai­ariki, Ngā Puhi­taniwha­rau.
Tiheiwa mauri ora!
Tēnā koutou e te whānau o te Kura a Rohe o  Whaingaroa!
Nō te wharetapu ō Ngāpuhi ahau.  Ko Aroha Hohepa tōku ingoa. And this is a little about me.
My heart in education is for our moko to see the magic that sits inside them.   I come to you with a very clear agenda, to uplift and illuminate the uniqueness of each moko through the culture of care and mana enhancing practise, alongside and with you.  I feel privileged to be placed in your whare and look forward to working collaboratively  with you all.
For the past year and a half I have worked at Haeata Community Campus in Aranui, Ōtautahi where as a team we have established the first NZ urban area school. My role as Kaiārahi Whakaako has been to develop game changing teaching and learning programmes through student focused, passion based learning, dispositional and value informed learning whilst promoting personalised pathways for each moko and their whānau.  Prior to this position I was part of the Senior Leadership Team at Nelson Intermediate School.  And before that a kaiako for many years.
Historically education has often failed our moko, so it has been a real privilege to collaborate with community and iwi in creating learning pathways with and for their moko.  Something I am hoping we can develop as a community at Te Kura a Rohe o Raglan where we will seek to advance our moko in a holistic way recognising hauora as much as teaching and learning programmes impacting on outcomes.
Your environment is rich with opportunities and so with you, our moko and the kaimahi at kura, I would seek to capitalise on this with innovative and creative ways to drive excellence in education for all our moko.
Your vision, "Celebrating education in a bi-cultural environment" spoke to me. Quality engagement with iwi, whānau, moko, school staff and senior leadership can allow best practise to be the responsibility of all key stakeholders with the goal to ensure each moko can shine in their own uniqueness.
On a personal note, I am the second youngest of four.  We grew up in central Christchurch and in the 80's we were a little different to our neighbours who would question the hangi pit in our backyard, the tuna hanging on the clothesline, the old fridge smoker sitting in our māra kai filled with kamokamo, riwai, etc.  My father speaks fluent Māori but we do not.  I often feel inadequate in my inability to kōrero fluently.  I never want our moko to feel this.  I was also raised as an Irish Catholic, a very  strong influence from my mother's side. I have raised my two boys, Nikau and Kaleb, for the past 17 years as a single parent.  Today I stand very proud as they both live in Wellington pursuing their own dreams through further education.
Oh and I have never in my life surfed.  Just a heads up.  See you all in term two.
Be bold.  Be kind. Be relentless.
Rise up.
Aroha Hohepa
Mā te tauihu o tōu waka, e ū te waiora.  Kia mahue atu, ngā mea whakahirahira i roto i te koriporipo.
May the prow of your canoe cleave the waters of life and leave in its wake, mighty deeds.
School PE Uniform and Junior T-Shirts 
Please note: We no longer have any uniforms, including junior t-shirts, on site.  Please purchase these from NZ Uniforms on-line, via a phone call or visit them at 224 Tristram St, Hamilton
School Bus Service and Parking
From time to time students have travelled home to their friends house for a play date, on the school bus.  This, in the past, has been allowed at the discretion of the bus company.  However, this week we heard from GoBus that they will no longer be able to transport children who are not eligible to travel on the school bus, due to load limits and insurances.
Parking on broken yellow lines and in bus zone.  Please remember not to park your vehicle on broken yellow  lines or in the designated bus zone area.  This makes it difficult for the buses to get around the round-about and/or pull up to the kerb to load the children on and off safely.  We appreciate your cooperation.
Year 7 & 8 Music Options Classes
Niki Keys is a musician and exciting teacher developing a music programme in our school to NCEA Level. The students are learning a variety of songs on the ukulele and will also have the opportunity to develop skills on the keyboard and drums.
Te Reo Maaori – Year 0-8 English Medium
This year, all classes up to Year 8 are learning Te Reo Māori, NZ Curriculum Level 1.  Following on from 2017, we will be introducing Level 2 from Year 5 and up. Whanau could help their tamariki at home with this by asking about and practising the KUPU HOU ( new words ) for that fortnight.
February's kaupapa was the Treaty of Waitangi and our local Raglan history : Whaingaroa, the entire harbour, Papahua ( the Kopua domain and campground ), Pūtoetoe the area of Raglan town including the school, and Te Awaitaia / William Naylor / Wii Neera the well known rangatira who signed The Treaty here in Raglan and is buried under the memorial on his papa-kainga, by the boat ramp.
Raglan Junior Rugby Club Registration and Weigh-In
It's hard to believe that the rugby season is just around the corner. We are looking forward to another exciting season of rugby, so kids it's time to dust off your boots and get ready for training!
This year registration can only be done online and is open now until 10th March at 1pm.  A link to this has been sent to all 2017 registered players and new players can register at www.sporty.co.nz/raglanjuniorrugby
Weigh-In will be held at the Raglan Rugby Clubrooms on Saturday 10th March 10am-1pm
All new players need to bring a copy of their Birth Certificate or Passport that can be kept by the club.
Payment of subs is due at weigh-in and will be cash only.  Alternatively, there is a link to online payment when registering which has a small admin fee applied to it.
$25 for an individual player, $40 for a family of two or more players
We may not be able to process late registrations so please spread the word.
For more information please contact Janine 0274253273.
Sport Results 2018
The past week has been a busy time sportswise for the senior school. Both the swimming and athletic sports have been completed during this time.
Athletic Sport Results    
 1

st

 2

nd

 3

rd

U 14 Boys
 Hemi Hosking
 Ashton Bicknell
Emanual Ringa
U14 Girls
Poppy Campbell-Briant
Te Tahi Elliott-Rooney
Sophie Higgins
U16 Boys
Karewa Irvin
Jay Anderson
Tawhiri Barber/ Jack Kirkwood
U16 Girls
Sasha Kirkwood
Adi-Grace Mooar
Lydie Madsen
Sen Boys
Zayne Stringer
Linton Rongo
Shay Cornes
Sen Girl
Emma Blaikie
Aimee Brown
Tia Ngarimu
  Swimming Sport Results                                            
1

st

  2

nd

 3

rd

U 14 Boys
Emanual Ringa
 Jaten Willoughby
Keylin Walker-Pitman
U14 Girls
Helena Lorenzen
Chloe Wharekawa/ Sierra Conquest
U16 Boys
Fin Laboyrie
Karewa Irvin
Jake Ellison
U16 Girls
Sasha Kirkwood
Paris Teddy
Mollie Abrams
Sen Boys
Ryan Dingle
Tommy-Ford Westrupp
Teo Parker
Sen Girl
Charlie Irvin
Aaliyha Kapea
Aimee Brown
Mountain Biking
Raglan Rock is available again this year to provide weekly mountainbiking.  We are aiming for juniors on Wednesday afternoon, after school, (which will require parent pickup) and Seniors will be Friday lunch times.  Cost may be $5 per week.  Automatic payment system available. Please send Nikki an email: sport_coordinator@raglanarea.school.nz to register interest
Bits and Pieces
PIANO LESSONS I am a qualified piano teacher and I welcome new students.  Piano lessons will take place at 45 Government Road and at school on Thursdays.  If you are interested please phone 825 7427, Mrs Jacqueline Barry.
SCHOOL NEWSLETTER  We are currently updating our school newsletter and are looking for new advertisers. If you would like to take up this cost effective way of getting your business name into our community, please contact Redgate Newsletters who will design a professional advert for you. A vibrant full colour newsletter is FREE to our school, with your support.  If this is something you are interested in, and for more details please contact: Redgate Newsletters at admin@redgatenewsletters.co.nz or phone 0800 639 753
Year 0-6 Update
Summer Poems by D3 Students
When I think of Summer, I think of Nature.
When I think of Summer, I think of splashing in the waves.
When I think of Summer, I think of eating watermelon.
When I think of Summer, I think of swimming in the school pool.
Ravi Rao, Year 2
When I think of Summer, I think of swimming in the pool.
When I think of Summer, I think of surfing in the sea.
When I think of Summer, I think of playing in the leaves.
When I think of Summer, I think of eating yummy food.
Lennox Lindfield, Year 2
Shared writing from E4 – Hikoi to Papahua
Our class went on a trip with Whaea Lizzy to Papahua.
Firstly, we set off to Te Kopua. We left school and walked across the bridge. We saw rocks in the water.
Secondly, we got a map and learned about history. We listened to Whaea Lisa and learned about her's and Deyton's Great-Great-Grandfather, Te Awaitaia.. Whaea Lizzy told us the Māori names for the campground and Raglan. We looked at the map and saw five dots on it. We felt excited and tired of the walking.
Thirdly, we had heaps of fun at the playground. We jumped on the bouncy pillow as high as we could to touch the clouds and the moon. We heard kids laughing while they were jumping. We heard the sound of the ocean and the trees talking.
It was a fun day.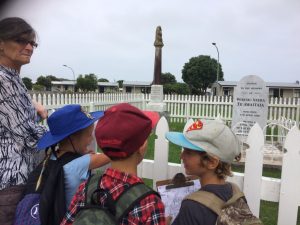 Observational Drawing in E3
Colours in D-Block     

Students dressed up for orange week in D-Block. This week's colour is green
Notices
– Maui Dolphin Day – students are holding stalls, displaying art, and singing. Please come along.
– Thank you to Whaea Lizzy and Lisa Thompson for leading the E-block Year 2-4 student Hikoi to Te Kopua  and all the whanau helpers.
Year 7-13 Update
Year 8 Fish Traps
In Matua Pete's Year 8 class, the students were set a rather exciting homework assignment. We had to make our own fish traps, made from recycled material. They had to be durable, creative, efficient, have a thoughtful design and not harm the fish.
We were given one week to complete this task, and at the end of the week, we traipsed down to the jetty to test them out. The fish traps were thrown into the water with weights and bait inside.  "It was a long and hard wait, especially because people kept walking in the water next to the traps and disturbing the fish," says one frazzled Year 8 student.
Many were not effective, but some had a fantastic result, coming up successfully with one or two little fish flopping about, and the occasional shrimp or crab. There were many different designs of traps, although most stuck to the plastic bottle idea, there was one woven from flax.
Many students found that they needed to improve their durability, and in one case someone's string snapped and the trap had to be rescued! There was also another mishap when Shaylee fell off the boat ramp and got soaked, but she dried out sooner or later.
There was much excitement while testing the fish traps, and I heard a lot of people saying, "I hope it works!" Or, "It isn't gonna work, eh,?" And 'fishing' for compliments, so to speak. Apart from the few dilemmas, everyone had a  great time, although some were rather disappointed with their results. It all ended well.
Iemaja Hassell, Year 8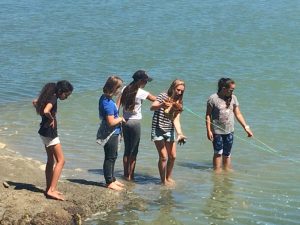 Year 12 Whanau "Bake Off"
Year 12 Whanau group started the day in Whaea Stevie's room being served pancakes, bacon, banana and maple syrup for breakfast. This was a great way to come together through eating and sharing a meal and getting to know each other. After breakfast, the students got into five groups and had a "bake off". Armed with Whaea Stevie's trusted pikelet recipe, ingredients, cream, and the choice of bananas or plums for additional decoration, the contest was on. Fun without flames and a closely fought competition saw Mr Geursen judge Team 5 and 6 equal winners.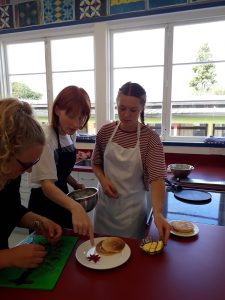 Mollie, Charlie and Paige assembling their winning entry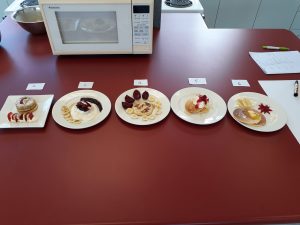 Extra Curricular
Sea Dogs
The SeaDogs, now in their 11th year, began the year with 22 keen-as students and onshore conditions at Ngarunui beach, scoring two foot peelers.
The wave of the day went to Luke Dymond, who weaved himself through a lovely little left hand cover up. Wipeout of the day went to Poppy, who got smashed whilst laughing at Sienna's take-off misfortune,  ending up with her hair full of sand and 500ml of foamy seawater in her belly.
The SeaDogs are always on the lookout for second-hand boards and leg ropes to get the students further out back and into the tube.
Cowabunga Dudes – looking forward to next week!
Mr C, Mr. O, Matua Pete and Matua Andy.
Sk8 to Cr8!
Ramps, rails and radical action on the new basketball court. New lunchtime Skateboard and Scooter club starting up on Friday 23 February. All ages welcome, helmets and permission forms compulsory, sorry no bikes. See your Whanau teacher for a letter to take home.
Gnarly – Mr C and Matua Q
Science Club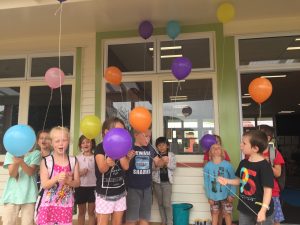 The topic of last week's Science Club was hydrogen! The students of D3 were very pleased with their floating balloons. Thanks Mr. C!
Theatresports Club Team
The theatresports team went along to their first training day in Hamilton on Monday 19 February.  They met with other secondary schools, upskilled their techniques, and played new games. A great afternoon was had by all!  
Our junior team comprises of students from Year 8-10. The first round of the competition will be held on Monday 19 March at The Meteor in Hamilton..All welcome.  
Good luck team!
Billabong Grom Series
Congratulations to the Raglan Area School students who claimed three of eight series titles at Piha on Sunday 25th February at the third and final event of the Billabong Grom Series presented by Oceanbridge.
Brie Bennett, Kora Cooper and Jayden Willoughby all won their respective divisions for Raglan.
Jay Ruka – Ngati Koata, and New Whaingaroa 'Local'
On Thursday February 22, Jay Ruka visited Year 7-8 students to explore the background to Te Tiriti o Waitangi. Year 8 student Iemaja Hassell writes about the experience.
The Treaty of Waitangi – Jay's Visit
When Jay came, I definitely think that everyone was very engaged and interested in what he had to say. Jay talked about the history of Waitangi, how it started, who was involved and what it would have been like. But he didn't just talk at us, he made connections to our everyday life so we could be like, "Oh, yeah, I see what you mean," and help us gain new knowledge in a new and interesting way. With him, he had prepared a PowerPoint, so as he was talking, he flicked through the presentation and showed us some images.
Jay talked about how it started, how a naughty man named Edward Wakefield found a new way to make some serious cash. Eddie was from England, and in jail for a period of time, and in that time he studied economics. When Eddie heard about the British Empire colonising Aotearoa, he immediately sent out adverts into newspapers, to buy some land, in New Zealand. He didn't have permission, but some people, poorer than the rest, took him up on his offer to get away from their poverty and in the hope of becoming amazing farmers.
When the Pakeha that had bought the land arrived in NZ, they met a man named Henry Williams (Karu Wha, meaning four eyes because of his glasses) who was surprised and angry that they were there. KaruWha was good friends with Maori, and when he saw all of these new Europeans causing trouble, he decided that something had to be done. KaruWha sent a message to the Queen, asking for someone to come over to NZ, and sort the Pakeha out.
This is one of the main reasons that  the Treaty was proposed. Jay was very passionate and gave his story 110%. For me, it was really interesting listening to the talk, because we have been learning about the Treaty of Waitangi, but I never knew the full story. It was a really awesome experience for everyone, because just by looking around you could see that each and everyone of the students and teachers were lapping up the information in great big mouthfuls, and overall just enjoying themselves.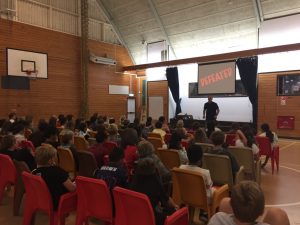 Te Roopuu Aroha ki Te Reo
Moe mai raa e Oma Truss …
E te atua whakatau mai nei ngaa maanakitanga ki runga i ngaa whaanau pani kei waenga i a taatou i teenei waa.  E te ruruhi ngaakau aroha, e Oma Truss e hoki ki too waa kaainga ki roto i ngaa awhi kau o te atua.  Moe mai raa, moe mai raa.
Teena koutou e te whaanau, nau mai haere mai ki ngaa pito koorero o eenei wiki e rua.
Whakamihia, whakanuia, whakamiharotia!
E te whaanau ia wiki paanui ka whakaputa teetahi tauira mahi maa taatou e whakamihia.  Ko te tauira o te pukumahi moo teenei wiki ko Ngawai.  Kaatahi anoo ia kia timata i tana hikoi i roto i toona ake reo, aa, e waea haere ana ia ki ngaa kiianga 'maaua ko'.  Teenaa e te whaanau whakamihia, whakanuia, whakamiharotia te ringa tuhi.  Kei runga noa atu koe e Ngaawai!
Koia nei te paatai matua ki a taatou i teenei waa?  E ako ana maatou ki oo maatou waka, maunga, awa, marae, iwi, me oo maatou hapuu.  Kei te kimi maatou i eenei pito koorero.  Kia kaha e maatua maa ki te tautoko i ngaa akoranga aa oo taatou tamariki.  Tukuna mai ngaa pito koorero e whakatutuki ai ngaa whainga ako e taatou
Eke waka noa…
Ngaa mihi manahau e rere ana ki a taatou katoa i tae mai ki ngaa poo uiui maatua.  Ko te manako i whai waa taatou katoa ki te koorero tahi.  Meenaa i mahue teenei whai waa i a koe, teenaa, haere mai ki te whakarite waa anoo moou.  Ko te take matua nei ko te whakakotahitanga.  Ka tapatahi ai taataou ki te koorero i nga horopaki ako hei aawhina i te whanaketanga o ngaa akoranga.  Noo reira e taatou mai nau mai, haere mai ki te eke waka noa.
E rere taku poi…
Koina nei maatou ki roto i te whare o te reehia.  Kei roto raa maatou e aro atu ana ki ngaa akoranga o te poi poto.  I waananga maatou i eetahi tikanga peeraa ki ngaa mahi take e kore rawa taatou e koopeepee te uupoko o te poi.  Tua atu ki teeraa i ako maatou noo Tuumatauenga te poi i koha mai hei taonga whakapakari uaua ringaringa o te toa.  Naa reira ka ako hoki aa taatou tamatoa kit e porotiti poi.  Ka wani kee!
Kia rite, kia rite, karawhiua…
Get set, go!
·         Whatawhata School
·         Friday 2 March, 9am – 3pm
Maui Dolphin Day
·         Te Kopua Domain
·         Saturday 3 March, 8:30am – 3pm
Tuakanatanga…
Ka mau te wehi… anoo nei ko teetahi mahi tino whakahihi o te tuakana hei tauira moo te teina.  Ka paanui pukapuka kia rongo ai te reo, kia whai ai te ia o te koorero.  Kei runga noa atu koutou maa!
Te Rangi Paa Pooro ki Kirikiriroa…
I teeraa Raamere i puta atu a Tawera ki teetahi rangi miharo rawa.  Ko te paa pooro te kaupapa.  He rangi wera, he rangi hihiko naa te nui rawa o ngaa tiima i tae mai.  He whakataetae ngaa keemuu, aa, i tuu maaia a Tawera.  I toa raatou i eetahi keemuu, aa, i hinga raatou hoki.  I te mutunga he toa te katoa naa te mea i tuu raatou ki mua i te mura o te ahi.  Ka wani kee e koutou maa!
Waruwarutia te aaporo…
Naa maatou te whiwhinga nui o Rongo.  Kua pakaru te peka raakau naa te nui o ngaa hua kua puawai.  I haere atu maatou ki te hohou i ngaa aaporo mai runga tonu i te raakau kei muri i too taatou whare.  I waruwaru maatou, i tapahi a Ātea aa, i tunu maatou.  Te reka hoki o eenei aaporo!
Kupu Hoou
       Koopeepee – squeeze
       Waruwaruhia – peel
       Waruwaru – peeler
       Manawa tiitii – great stamina
       Taawariwari – flexible
       Porotiti – twirl
Rerenga koorero
I waruwaruhia te aaporo e Tamati.
o   The apple was peeled by Tamati
Tikina te poi
o   Get the poi
Ngaa mihi nui, naa ngaa kaiako o Te Roopuu