Tena koutou te whanau o Te Kura a Rohe o Whaingaroa, Greetings to all of our whanau and to our students.
A reminder that our next Teachers Only Day (TOD) is on Tuesday 5 June (attached to Queen's Birthday weekend). These days do not shorten the teaching year and are accounted for in calculating our end of year closing date.
Roll Growth
Our roll has continued to grow with a net gain already this year of 25 students across the kura.  Thanks to continued community support, excellent teachers, and a dedicated Board, this trend looks to continue and as a consequence options for senior classes, classroom facilities and access to resources improves, all of which is exciting.
Staff changes
We have appointed Oli Rykes to the permanent teaching position in Years 5-6.  Oli will be joining us next term.  Thank you to Whaea Tracy who is relieving in that class for the rest of the term. Many of you will know Oli as she taught for a time at Te Uku School.
We are advertising for a fourth teacher in the Year 0-2 syndicate to begin next term.  This is to redress the rapidly increasing sizes of classes in that area of the kura and we are also looking for a new staff member for the near future to take over from Matua Andy, who is teaching part-time in the secondary part of the school.
Election of Student Representative on the Board of Trustees
Congratulations to Charlie Irvin who has been elected as the BOT student representative on the Board of Trustees. We look forward to her joining the Board at our next hui.
Maths NCEA
Mr Nathan has suffered a severe injury to his leg which means he is absent for now.  Myself and Mary-Rose Speakman will continue to deliver Maths for NCEA levels1-3. I am confident in our experience and have both delivered at this level for many years.
Professional Development
The kura receives support from MOE around professional development where there is some national priority of context. Currently Marleina Te Kanawa is working with both Maaori medium and English medium teachers focused on second language acquisition. Marleina has time to spend with staff, and on working within classes to improve the effectiveness of Te Reo acquisition.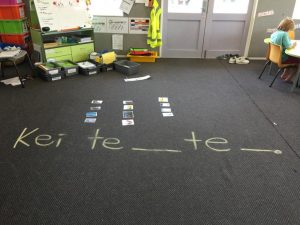 School drop off and pick up
You will see that there are signs up at the end of the street access to the kura saying that it is a no exit.  While true, it doesn't help with what I think is well known to every parent trying to pick up a student on a rainy day. The issues are complex: limited parking: bus bays; diagonal parking that closes access to one lane; folk parking on the roundabout and obscuring views; folk parking in the spaces reserved for accessible parking access only; and a stream of students.
YOU CAN HELP:
If you are picking up older students perhaps arrange a 10 minute later pick up for them; arranging pickups further up Norrie Ave or on Whitley Street; leaving the reserved parking for limited mobility students (these are not for limited mobility drivers who remain in the car); not double parking so that students have to move between vehicles to access their ride; etcetera.
Education Review Office
ERO visited the school on Monday and we are able to report a positive hui with affirmation from them about strategic direction and implementation. The newly formed leadership team were very encouraged by their reflections
Nga mihi
Malcolm
From The Board of Trustees
Kia ora koutou o tatou whanau o te Kua a Rohe o Whaingaroa
I'd like to take this opportunity, on behalf of the BOT to welcome our new Deputy Principal Aroha Hohepa who I'm sure you'll all get to catch up with in good time.
We would like to acknowledge the myriad of contributors to our school culture, tikanga, from within the school community and the wider community. Our school values, Poutama, Manaakitanga, Whakawhanaungatanga and Kaitiakitanga grew out of and are shared with the community of Whaingaroa.  We are honoured and grateful for the contribution that our kaumatua Paddy Kaa, Russell Riki and Sean Ellison bring supporting tikanga within the school and the ever present Margaret Dillon and camera.
The board and teaching staff have also been recently treated to a presentation from Heather Thomson who brought a real Ngāti Mahanga historical perspective.
We are very proud of the student leadership team and how they represent the school as shown by Grace Mindoro and Joel Newport at the ANZAC day service and the speeches they made.  The board has also recently run an election amongst the students from Years 9-13 for the student representative who attends all Board meetings with equal voting rights, insights and contributions to decisions, and congratulate Charlie Irvin in being elected to this very important position.
Sue Brown and Jan Kearvell have recently left the staff and even though they were not employed full time they have enhanced and influenced the learning and well being of many students over the many years they've been involved with the school. Donna Fisher successfully applied for Sue's job so we acknowledge Donna's contribution as a classroom teacher and congratulate her at the same time.
We also acknowledge our support staff like Sue Millward, Anaru Topia, Hinemoa Rossi and Karen Clark with the other ever present camera. The caretaker and cleaning staff every day after school, the parents that I see consistently supporting the teachers, children and young adults inside and outside the classroom with sports, camps and school events. A shout out to my fellow board members.
I've saved the biggest acknowledgement for my finale though. The teachers.  And if it was just for the effort that goes into day to day management of the classroom that would be enough but there's a whole lot more to it than that. The holistic care that goes into the learning and wellbeing of the kids. The professional development that goes on behind the scenes. How so many of you go the extra mile with sports teams and all the extracurricular interest groups. It doesn't go unnoticed. I hope the union's pay negotiations are going well!
If I have left out anybody for special mention then I sincerely apologize.
No reira, he aha te mea nui o te ao? He tangata, he tangata, he tangata.
Ngaa mihi Chris Banks RAS BOT chairperson
Raglan Area School 5-12 Year Old Cross Country
What a great morning!!  Thank you to all whanau who came to support and we are very proud of how the students all pushed themselves to do their best. Well done!! Here are the results.
5-8 Year olds
First
Second
Third
Fourth
5 Years
Boys
Xavier Kite
Oliver David
Remy Duirs
Ethan Stuten
Girls
Lakey Vink
Willa Taranaki
Jade Riki
Laurel Rudolph
6 Years
Boys
Vincent Renfree
Paulo Regnier
George Bull
Isaiah Wollston-Wetera
Girls
Amber Atkin
Amarda Rolton
Shyah Stafford
Cassie Maybee-Clark
7 Years
Boys
Mako Muru
Ramone Regnier
Xander Banks
Tawera Gray-Lord

Brendon Eaton

Girls
Wairere Tepania
Pounamu Tepania
Olive Peart
Atea Haenga-Te Wheoro
8 Years
Boys
Corsyn Stafford
Sage Bennett
Louis Duirs
Sam Greetis
Girls
Miko Hutt
Evie Hunter
Rosa Hunter
Esme Koning
9-12 Year Olds
First
Second
Third
Fourth
9

Years

Boys
Jack Meek
Reuben Hassell
Kish Grant- Swallow
Nikau Rice-Edwards
Girls
Isobel Peart
Whitu Gridelli-Muru
Scout Loten
Adrianna Nield-Cooksley
10 Years
Boys
Kye Nguyen
Sylvan Welby
Willsy Hunter
Eli O'Conner
Girls
Tiaari Gibson
Isabella Wynyard
Esther Koning
Malachy Geoghegan
11 Years
Boys
Harper Peart
Harrison Meek
Eli Grant-Swallow
William Barton
Girls
Tehani Ralaimihoatra
Pru Teddy
Crystal Goodwin
Liarna Salvation-Barber
12 Years
Boys
Leeto Hughes
Xander Warren
William Millward
Lucca Page
Girls
Zoe Oliver
Isabelle Stockton
Zara Beeby
Mountain Bike
MTB Club- The MTB club is looking for a volunteer to help on a Tuesday/Friday from 1.20-2.45. This is to accompany the students to/from the school and provide support to the Instructor, Lewis. All volunteers would need to have a current police check. The school can assist with this. If this sounds like you…. Please contact Nikki on 02108317809 or sport_coordinator@raglanarea.school.nz.
Miniball will be back in Term 3 thanks to Dirk. This will run on a Tuesday 4.30-6pm in the school gym. Sessions start on 24th July with a skills night followed by the games the following week. Rural schools have been invited to participate. Please see the poster on main reception door. Register with Nikki on sport_coordinator@raglanarea.school.nz
Sea Dogs
It has been a windy start to the term with the Sea Dogs battling gale force winds and big swells. However there are no excuses….massive thanks to Pete Barry for donating a heap of wetsuits so we will be warm whatever the conditions!
Everyone's welcome and every Wednesday we are out there!
Youth Week
Raglan Youth Festival 2018  Celebrating Youth Week  "BE WHO YOU WANT TO BE!"  Is set to be an exciting weekend with awesome live performances and workshops lined-up ready for Sun 27 May 12pm – 6pm.
Where? at the Raglan Town Hall, Bow Street
Here is a sneak preview of performances:  Hip Hop, African Drumming Dance, Yoga Workshops, Youth Discussion Panel 'Be Who You Want To Be! Be The Change', live performances by Majestic Unicorns, Teia Kennedy, Cloak Bay, Joel & Emily.
Some activities include: Make your own mask for the ball; Karaoke; games at the Raglan Community House Basement.
AND
Look out for the delicious food stall fundraiser for the Raglan Area School Ball.
Yrs 0-8 Cross Country
A few words…
Last week it was a privilege to witness the determination and resilience of our moko at the school cross country. We all have our own memories of the cross country and for me it was not something that brought me joy! I know this to be true of some of our moko here at RAS too.  What was impressive though, was the presence of manaakitanga to really encourage all moko to do their personal best. When we set high expectations, our moko rise.
Everyday we have moko in our kura who struggle with learning. Everyday we have moko facing personal challenges. Everyday they are expected to face these with resilience and courage. Cross country is one day.  And it is heartening to see that we expect our moko to face this challenge with the same grace others face learning and personal challenges everyday.
To understand what we are capable of, we must seek to push our own personal boundaries. It is in these moments we see what could possibly be, we illuminate the potential that sits within all of us. It was humbling to watch those who struggled, run across the finishing line with a smile on their face.  It was exciting to see our wee poppets sprint the first 10m only to be distracted by the crowd that lined the track. It was heartening to see moko cheer their peers on, to run alongside them, to encourage and celebrate each other. This is what community looks like. This is what our kura values look like. This is who we are.
Thanks so much to the kaimahi for driving this kaupapa which uplifted the mana of all our moko. Thanks to you, our whānau for cheering on and celebrating.  And to our moko, thanks for reminding us what it is to really push ourselves.
Aroha Hohepa
Deputy Principal
moko: grandchild, descendant. In this context, students;
manaakitanga: the process of showing care for others, support, kindness;\
kura: school;
kaimahi: workers (teachers, support staff, volunteers);
kaupapa: purpose, agenda;
mana: integrity;
whānau: family.
D3 would like to share some of their writing about the event.
On Friday it was the Cross Country race. We were puffed as puffed because it was a bit long. It was fun. I won and I felt proud of myself. After the Cross Country race my mum took me home. I loved the Cross Country race. Amber Atkin
I ran as fast as I could. I heard my mum. I ran in the poles. It was fun when everyone was cheering for me. Lennox Lindfield
I ran as fast as I could but I didn't come first, I came ninth. I was sad but I tried my best. As I ran I tripped over but I got back up and I ran through the goal posts and I said 'yay!' I sat in my line and my mum came over and gave me a hug. I said, 'Thanks mum.' After that we went back to class. Kelsie Hishon
I slipped on the grass and mud. It was fun. Dizzy Coulden-Lavers
On Friday it was Cross Country and I was sweaty and hot. My mum and Nick and Nicholas and Hana and Maihi watched me running. My heart was beating fast and I came fourth. Cassie Maybee-Clark
On Friday there was Cross Country! I was proud for Amber, she won the race. Paige Browne
Student Writing
E4 have been using picture prompts to stimulate writing. Here is one students response to the below image.
The tentacles burst out of the water like torpedos. The building shook and shuddered. Then the cracking sound of timber breaking. Next metal broke. Pieces of wood smashed into the many chunks of metal. The huge building splashed into the sea. George Bull, E4
A Response to George Loten's the Opinion Piece on Mindfulness
This is a response to George Loten's letter. I will be stating that mindfulness is a good thing.
Mindfulness is very calming. I think that it's calming because quite a lot in not just maori, but other subjects, I get frustrated. Mindfulness takes my mind off things. I understand that mindfulness has different outcomes for everyone.
Mindfulness doesn't just take my mind off of things, but it helps me when my mind wanders. It has taught me to get better control over my brain. I am so glad that Whaea Lizzy has introduced me to mindfulness over the years. Without it my mind would wander and I wouldn't be able to stay on task.
Last but not least, mindfulness helps me notice my body and how I am feeling. Mindfulness doesn't cause stress for me and this is probably the case for most of my class. I am sure that lots of people agree with me. I would love to have more mindfulness in school time, because things do get stressful, and mindfulness helps us a lot. Natalia Meek, E1
E5 have been writing about 'a moment in time.'  We wrote about our favourite time of the day.
Afternoon is my favourite time of the day because I slip into my muddy boots and hop into the car and go to Rugby.  I enjoy tackling. I hear my Mum screaming at me. I see a crowd jumping up and down hoping for us to win the game. Louis Duirs, E5
My favourite time of the day is dawn when the sun has gone, the moon is out and the tide is right.  My spear is sharp. The water is cold and I shiver like a fish. The light is ready to catch the floppy flounder. Sol Hoare, E5
C3 students are working on how to write for a specific purpose. They are exploring the connections between setting and characters, utilising contrast in order to highlight character flaws and personalities.
Typical Homer
Author: George Loten.
Purpose: To make the audience feel that Homer is rude and obnoxious.
How: Using Contrast
Everybody's standing around wishing time by. Drops of tears whimper out of their eyes like a tap turned on only half way. The coffin sits up on the table like a fish that's lost its school and crying and whimpering fills the air. Everyone stayed quiet and calm even the naughty kids in by their parents and the birds sitting on nearby trees outside kept quiet.  
Suddenly a blue little car pulls up outside with a big fat man stepping outside with all the pride in the world. CLASH!  CLANG! Five beer cans stumble out of the car, Homer laughs, bends over, picks up the beer cans, showing his big yellow bum. Shortly after he sluggishly stumbles up the stairs of the church humming and scratching his head. The priest glances over at him in disgust, but Homer finds a seat at the front sits down and shovels down a maple syrup glazed donut in one bite.  
Close But Far
Author: Petera Ponga.
Purpose: To make a friend sound bad and the audience to feel sorry for me.
How: Using Contrast
My mate wouldn't stop kicking me I tell him to stop but he was relentless. Kick, kick, kick.  
Standing up angrily, I told him with frustration to "cut it out". The teacher looked up, eyes flickering with malice and told me off for talking over her. She ordered me to move and sit on the desk away from my friends.
Frustrated, I walk with eyes as red as lava glaring  at my so-called friend. I sat down at my new destination the bell rang like a baby who dropped a toy.
Then he comes along again and kicks me. So I trip him up and kick his legs. Suddenly the Principal stepped out "In my office now!"
Without a doubt, I knew what was about to happen.
Science
Science Club
Kia ora,
It's H2O Term 2, and Science Club is all about liquids!  Throughout this term students will be investigating and experimenting with pressure, density, making solutions and performing magic!
So far this term, students have mysteriously elevated water, created their own 'Cartesian Diver', and designed and poured a 'floating liquid density traffic light model'.
This week is all about chromatography where we will separate some mixtures by the power of Science. Mr C.
Year 13 Science Update
Year 13 students have now completed their investigation examining the types and distribution of plastic pollution in Raglan's marine environment. This is part of an ongoing research project, sampling and collecting data on an annual cycle. The aim of the project is to provide information that can then be used to design methods for the reduction of plastic on our shores.
Ever heard of a 'Nurdle'? These are the plastic 'pellets' which are used to create plastic objects in factories. Unfortunately, our data shows these are being washed up on our beaches. Over time these 'nurdles' accumulate toxins and then break down into micro particles and are consumed by marine creatures. Keeping plastic out of our fish and chips may be more difficult than you would expect! Year 13 Science Class