Tena koe te whanau o Te Kura a Rohe o Whaingaroa
We are delighted to have appointed Kahurangi Whitiora to our Roopu from the beginning of term 3. Kahu is well known to us, she was in the local Kohanga Reo, was a student in Te Roopu Aroha Ki Te Reo, went to Nga Taiatea and became head girl there before gaining a degree and then diverting her talents to teaching. She is a competitive exponent of kapahaka and will take much of this role over from Chanel in due course. Chanel has agreed to stay on with us in a part-time capacity and will continue in the meantime with Kapahaka and will support senior reo classes.
With only one week of term one left, teachers are very busy publishing reports for our students and these are in a state of change as we remove the national standards flavour and report progress against the curriculum levels. I for one will be glad to see us much more focused on an holistic view of our students than the narrow lens that has held sway.
On the 21st of July we would like to have a working bee at school. We have new gardeners and there are a few jobs to do where many hands would make a huge difference. We are asking for only 2 hours, 10 till 12 am. You would need to bring sturdy gloves (preferably leather) and secateurs as there is a rose cutting to do including a rambling rose that has wandered afar.
Matua Andy has resigned his position at the school and we would like to thank him for all that he has done for our design students along with growing up a passion for electronics and computing.
The other piece if news is that today I have advised staff and students that I am taking sick leave at the end of this term and am going to retire. Quenten and Aroha have been appointed to a shared leadership role as Acting Principals and the Board is acquiring the services of an appointments adviser to look to the appointment of a new Principal. I will share more of the details as I am able to. I shall very sincerely miss teaching and our wonderful students along with staff and community.
Nga mihi
Malcolm
Introducing
Oli Ryks, Classroom Teacher E2 
Kia ora, I am really excited to be joining the students, teachers and whanau at Raglan Area School. I feel very lucky to be returning to Raglan to work in such a close and supportive community.
I live just out of Raglan with my husband John and daughter Maia. I keep active through running and enjoy participating in running events. In the classroom, I am passionate about making sure students have the tools to be reflective learners. I value a collaborative, caring classroom culture where students are encouraged to think critically and be involved in their community. I have been teaching for over eight years, previously at Te Uku and in the Wellington Region. Before being a primary teacher, I worked as a music teacher in schools and as a professional musician in the New Zealand Symphony Orchestra. I am really passionate about working with young people and their families and can't wait to meet you all next term.
Nga mihi,
Oli
Kahurangi Whitiora, Classroom Teacher Te Roopu Aroha ki te Reo
Ko Pirongia te maunga,
Ko Kawhia te moana,
Ko Tainui te waka,
Ko Waikato te iwi,
Ko Ngaati Mahuta ki te Tai-Hau-aa-uru te hapuu,
Ko Kahurangi Whitiora tooku ingoa.
Teena raa taatou katoa.
Kua tata waru ngaa tau maatou ko tooku whaanau e noho ana ki Raahui Pookeka. Wheeoi, he hoking kainga teenei mooku ki te Tai-Hau-aa-Uru.  I timata mai tooku ara maatauranga ki Te Kura aa Rohe o Whaingaroa ki roto i Te Roopu Aroha Ki Te Reo.
Kua whakaako au mo ngaa tau e whaa i roto i te kura auraki engari kua tino hotuhotu kia hoki mai ki roto ki ngaa mahi reo Maaori.
E kaingaakau ana au ki ngaa mahi kapa haka, ki ngaa mahi haakinakina.
Kei te hiikapa te manawa te hoki mai ki te ahi kaa.
Ngaa mihi manakoo,
Kahurangi Whitiora
A Few Words
In December last year the Government announced that National Standards and Ngā Whanaketanga Rumaki Māori will be removed from 2018. Instead the Government will focus on the progress and achievement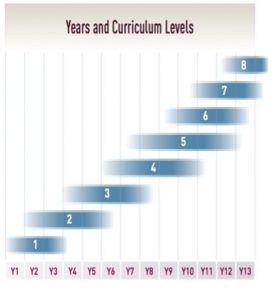 of all children across the wider New Zealand Curriculum and Te Marautanga o Aotearoa. Schools are still required to report to parents in writing at least twice a year on their child's progress and achievement.   But schools and kura will no longer be required to use National Standards and Ngā Whanaketanga Rumaki Māori for this reporting.
What does that mean for RAS reporting?  Te Roopu Aroha ki te Reo will continue with current reporting format. For this year in Year 1-10 we will share learning against the NZ Curriculum levels and celebrate your child's individual progress. The diagram shows that each curriculum level is expected to take 2 years.  In Years 1&2 students work at Level 1, Years 2&3 work at Level 2, Years 5&6 work at Level 3, Years 7&8 work at Level 4 and Years 9&10 work at Level 5, then we enter into NCEA Level 1,2, & 3 which relate to curriculum levels 6, 7 and 8. Written reports, while legislated, are only a minor dimension of how teachers, whānau and students can communicate the progress and well being of students.  How we do this more effectively is an area of focus for RAS.
Sports Round Up
Raglan Area School Vs Te Kauwhata 52-42.  An awesome win for boys basketball team . Thank you to everyone who helped out in the kitchen, our visits appreciated our Manaakitanga.
Thank you whaea Margaret for the photos
2018 has been an exciting year for RAS winter sports teams. Raglan Area School would like to thank Mark Frost from Bayleys Real Estate for sponsoring our Rugby, Basketball and Soccer teams. We will post a team 'write up' in our next Newsletter chronicling the season.
RAS would like to thank Matua Te Whaiwhaia and Rangi Rongo for coaching our Junior and Senior Boys Basketball teams.  A massive thank you to Whaea Margaret for her awesome support as manager (and photographer) of the senior boys basketball.
RAS would like to thank Keni Paekau for coaching the Senior Girls Basketball, and Whaea Erangi and Whaea Ariana for their dedication to managing this team.
RAS would like to thank our amazing soccer coaches Brett Smith, Zack Smith and Billy Banks. Thanks also to our awesome managers, Sarah Johnson and Lisa Thompson, and thanks to all the whanau who provide transport and kai.
Senior Boys Rugby: RAS would like to thank our dedicated and committed rugby coaches Aaron Laboyrie, Lawrence Brydon and Barlow Rawiri. Thanks also to Mel Brydon for her long serving dedication as manager of our rugby team.
Lost Property
End of term is fast approaching.  Please check your childs wardrobe for missing items of clothing, particularly hoodies and jackets.  They could possibly be in our lost property cupboard.  We're getting more and more students looking through the lost property, which is awesome….keep it up.
There is also a number of items being brought in from the hall after community basketball games.  If you use the hall after hours, and have left items of clothing missing, you can call in to the office and check out the lost property.
Bubbles in D2
"Our bubbles blew over the school buildings."
"We blew lots and lots of bubbles."
"I liked making bubbles with my friends."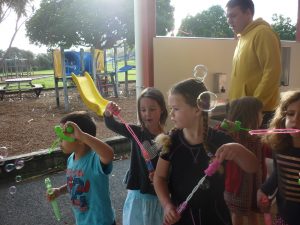 Science in E5
E5 have been busy doing experiments to learn about solids and liquids.  
We made 'Traffic Lights' and asked the question 'Why do some liquids not mix?'  Then we made butter from cream – we took a liquid and turned it into a solid.  We had so much fun.
Stayed tuned for 'Exploding Rockets'!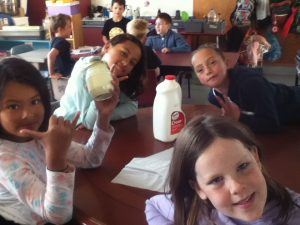 The 40 Hour Famine
Participants & their stories: I bought the 40 hour famine to my students attention as I was participating to raise money myself, and through the Social Science curriculum did some teaching around life for children in South Sudan.  The desire from students to want to make a difference to other children's lives meant we raised approx $1000 for these children who are struggling amongst civil war, malnutrition, loss, and no education. Together, we made a difference!  – Whaea Gabrielle, I2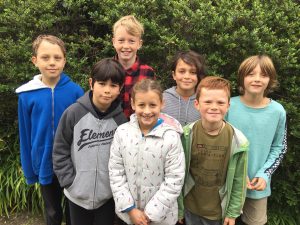 Fun in the Rain
In D2, some students read the story 'Rain Rain' by Joy Cowley. Afterwards, they drew a picture and wrote about what they do when it rains.