Tena koe te whanau o Te Kura a Rohe o Whaingaroa. Greetings to all of our whanau and to our students.
I would like to congratulate Donna Fisher on her successful application for the position of RTLB based at Raglan Area School and working in schools between here and Te Awamutu.  For whanau this will be a surprise and the BOT have made arrangements to transition a new teacher into Donna's class as soon as possible and in the meantime Donna will stay with her class until a new teacher is appointed.
The SchoolApp has had a very good uptake and numbers of whanau who have downloaded the App are encouraging and as staff become familiar with the functions of the App more and more alerts will be sent via that tool. Already many of you will have been receiving these from staff.
The Charter has been published to the website for your information and the BOT are now working to have all our policies available there also.
A reminder that schools are always closed for Easter Tuesday. There are also Teacher Only Days on Friday 11 May and Tuesday 5 June after Queens Birthday Monday.
I would like to wish you all a very blessed Easter and a refreshing break at the beginning of Autumn. Which way do the clocks go again?
Nga mihi
Malcolm
Western Cluster Swimming
Whāea Amy and Gabrielle took a squad of 39 students, aged between 8 and 12, to Ngaruawahia for the Western Cluster Swimming event on the 15th March.  What a fantastic day! Our students all performed their best in every aspect, and we'd like to take this opportunity to thank all of the students and parent helpers alike.
Results from the day:
1st placings…Lucca Page, William Millward, George Loten, Rory Sargent, Nina Campbell and Felix Sargent.
2nd placings…Petera Ponga, George Loten and Hayley Forbes.
3rd placings…Petera Ponga, Sashka Highway, Sophie Paterson, William Millward, Manaaki Riki, George Loten, Skye McLeod and Nina Campbell.
Well done to everybody.
Swimming Sports 8-12 yrs, 9 March
We were a little worried about the weather for this years swimming sports, but the sun was shining and we had a great day! All students participated with great enthusiasm and there were some very exciting races. Congratulations to all those who were selected to represent the school at the Western Cluster Swimming event in Ngaruawahia. It would be great to gather student, staff, and whanau voice around the swimming sports so we can continue to improve our events.  There is a survey on the school facebook page if you would like to give your feedback. A big thank you to all the whanau who came out to support our tamariki.
Matua Liam
The results
Backstroke
Breaststroke
Free-style
8 year old – Girls
1st Hayley

2nd Miko

1st Moana

2nd Miko

1st Hayley

2nd Moana

8 year old – boys
1st Ace

2nd Corsyn

2nd Ngaru

1st Ngaru

2nd Layton

1st Van

2nd Rikiriki

9 year old – Girls
1st Nina

2nd Enfys

1st Nina

2nd Whitu

1st Nina

2nd Whitu

2nd Coco

9 year old – boys
1st Tawai

2nd Dekan

1st Tawai

2nd Felix

1st Lucien

2nd Seth

10 year old – Girls
1st Tiaari

2nd Kowhai

2nd Isabella

1st Talaia

2nd Isabella

1st Tiaari

2nd Isabella

10 year old – boys
1st Linkin

2nd Eli O

1st Brae

2nd Dustin

1st Benjamin

2nd Oliver

11 year old – Girls
1st Liarna

2nd Skye

1st Zara

2nd Skye

1st Skye

2nd Keira K

2nd Isabeau

11 year old – boys
1st George

2nd Manaaki

1st George

1st Rory

1st George

2nd Manaaki

12 year old – Girls
1st Sophie

2nd Katarina

1st Zoe

2nd Katarina

1st Saskia

2nd Zoe

12 year old – boys
1st William
1st Lucca

2nd Petera

1st Lucca

2nd Petera
Raglan Art To Wear Workshop
Raglan Art to Wear Workshops with Liz Hoskings.  Sundays, April 8, 22 and May 6. For more information contact Liz 027 695 1655
Kids Clay Classes
BOOK NOW for Kids Clay Classes at the Old School Arts Centre for Term 2.
Have fun with clay – Experienced tutors – Bookings essential.
Monday, April 30 – June 25 | 3.30-5pm
Tuesday, May 8 – June 26 | 3.30-5pm
Thursday, May 10- June 28 | 3.30-5pm
5 – 12 years old | Bookings essential
$80 per child | $70 for additional siblings
Includes materials and rings
Raglan Old School Arts Centre | 825 0023 | info@raglanartscentre.co.nz
Juniors on the Wharf
Saturday 31st March, Easter Saturday. Start time 10.00 a.m.
Finish/Weigh in at 12.00 midday. Free Entry
Juniors up to the age of 15. All under 12 must be accompanied by an adult
Goody bags for all
Bits and Pieces
PIANO LESSONS I am a qualified piano teacher and I welcome new students.  Piano lessons will take place at 45 Government Road and at school on Thursdays.  If you are interested please phone 825 7427, Mrs Jacqueline Barry.
PIANO, SINGING AND DRUM LESSONS Learn music for fun! Piano, singing & drum lessons available in Raglan.
Contact ruth@pianopicnic.com or text/phone 022 0382636.
LOOKING FOR A PIANO.  Our School music department is looking for a piano, phone Dave O'Loughlin if you can help.  825 8140 
SCHOOL NEWSLETTER
We are currently updating our school newsletter and are looking for new advertisers. If you would like to take up this cost effective way of getting your business name into our community, please contact Redgate Newsletters who will design a professional advert for you. A vibrant full colour newsletter is FREE to our school, with your support.
If this is something you are interested in, and for more details, please contact: Redgate Newsletters at admin@redgatenewsletters.co.nz or phone 0800 639 753
0-6 Update
Year 0-2
Acknowledgements
Many thanks to all who attended our Swimming Sports/Demonstration on Wednesday 14 March.  Didn't our learners do well?
We had an awesome Beach Picnic at Papahua on Wednesday 21 March. Beautiful weather, fantastic whanau support and our tamariki were a delight to take beyond school.
D3's Beach Trip Writing
"I walked to the beach with my whole school class." – Lakey, Year 1
"At the beach I like swimming because I like floating to the side and I like going under the water." – Izayah, Year 2
"I like the sand sculptures because they let you do whatever you wanted. It was the most fun of the whole day." – Dizzy, Year 1
"I liked swimming and I dived under the water."
– Devon, Year 2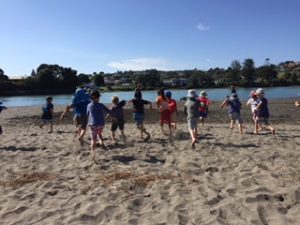 Year 3-4
Acknowledgements
We had a great day on Thursday at the E-Block Swimming Sports – well done to all students who participated! A huge thanks to whanau who came along to support us – it is so powerful for students to have a real audience when displaying their learning.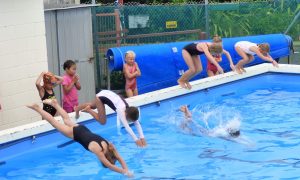 Get New Zealand Writing
As part of Get New Zealand Writing 2018  3,000 writing packs were sent to classrooms across New Zealand thanks to School Kit – that's almost 96,000 kids!  Students take part in writing a metaphorical poem about themselves, one stanza of which is then published on a postcard. These get posted to their buddy class. E3 and E4's buddy classes are in Redwood Primary School in Christchurch, and E5's buddy class is from Kaiapoi School in Christchurch.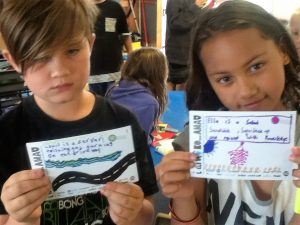 Teacher Notices
The E-Block Enviro-Club is meeting every Monday at lunch time. Be an active Kaitiaki in our school, come along and join the fun!
Year 5-6
High School Hide and Seek
"3,2,1 Go!" Calls our teacher, and we charge out the classroom door.
Esther and I are searching for a hiding place. "What about in those bushes by the library," I whisper. "Okay, it looks like a good one,"she replies and we dive into the bushes. The leaves envelop us as if they're helping to hide us from the seekers.
The smell of dust and dirt wafts up my nose. I need to sneeze. Carefully and quietly I turn around and cover my nose up with my t-shirt, trying to muffle the sound. Luckily only a small squeak comes out.
Phew, I don't need to worry about that anymore, now I can look around at my surroundings. The bushes' branches arch over like a tunnel. It looks like something out of a fairy tale, all magical and mystical.
Ow, a twig is poking my back. Just as I am about to move into a better position, we hear footsteps and voices softly talking. I can hear my heart beating so loudly I'm afraid the seekers will be able to hear it.  Staying as still as statues, Esther and I listen to them and watch their footsteps scurry past. I count to 60, but still I can't hear anyone. I wait a while more until I'm sure it's safe to talk. Esther turns to me, "It's been a long time maybe we should go back now so that we don't get left behind, "she whispers worriedly. "Okay," I answer. "Anyways, I was getting a bit worried about that as well."
We slowly step out of the small, leafy, bushes. I look around, it seems so bright I can barely see Esther even though she's right next to me. I feel the wind tickle my neck; it's nice to be out in the open once again. Suddenly Reuben appears and calls out, "Found you!" as he runs past. "I guess hide and seek isn't over yet," I sigh and we head back to class chattering and laughing.
Isa Dobbins, Year 6, E2.
High School Hideout
Five, Four, Three, Two, One Go! They all dart off leaving a cloud of smoke. I wait until everyone is gone and race to find a perfect hiding spot.
"Found one!" I say to myself.
I squish myself in as tight as I can between a green power box and the art classroom so I can not be seen. As I peak my head out, I see seekers racing off in different directions. I start getting sore in my leg, because a metal edge is digging into my thigh. I pick up a dry stick and start to scratch the cobblestones. Then a minute later, I see Maia running past searching high and low, left and right, but I am not noticed. Then, behind me, I start hearing rustling in the bushes.
"Shh be quiet or we will get caught!"
"No, you be quiet!"
And it keeps on getting louder and louder until they get caught by one of the seekers.Then I look left and I get seen by Maia. I crawl out with one hand and one foot, and slowly straighten up. My legs are shaking. As I walk back to class I can see my classmates hiding in the bushes. I peer back at the art room. The dark green power box buzzes goodbye.
Shanice Hishon, Year 5, E2.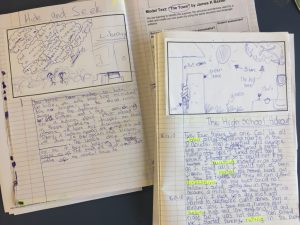 Isa and Shanice's drafts in their writing books.
Year 7-8 Update
Animal Cruelty
Animal cruelty is one of the biggest problems we have throughout the world, that needs to stop. Thousands of animals are dying each year, lives wasted for human society, habitats being destroyed and animals losing their lives for human pleasure. This needs to stop. The three biggest examples of animal cruelty are…
Dog fighting. Dog fighting is considered a sport in some countries like America, it starts with two dogs on leads facing each other with a puppy placed in the middle. The reason for this is, is so that when the dogs are released they will go for the puppy and eventually will start to attack each other. This is horrible because the puppy that gets placed in the middle gets ripped to shreds. The point of this sport is so that men can bet on the winner and win loads of money. The dog that loses usually gets killed or punished. The people that run these events breed puppies, these puppies live their lives on chains until they are old enough to fight. This is incredibly sad. Another sad place is the glue factory.
Do you ever wonder where your glue comes from? Maybe it is time to find out. The glue factory.The glue factory is a big, horrible, daunting place, this is where horses and other animals get killed to make glue and other things like dog meat. The reason horses are in there is because they have a lot of this thing called collagen, collagen is the main ingredient in glue and it is found in the key tissues of a horse (cartilage, tendons and ligaments). This is also the main ingredient in gelatin. This is sickening to think about just like the horrible marine parks.
Marine parks. Although you may think that the animals in the marine parks are having the best time, you are wrong. The animals are suffering they only get food when they perform (the little fish their trainers throw them). There is an orca in Seaworld named Lolita she has been in a tiny jail cell for 40 years, her companion killed himself caused by stress (he banged his head on the side of the pool edge and bled to death). This is what Seaworld does.  
Help these animals by doing little things everyday.       – Sashka Highway, Year 8, C1.
Interview with Zoe Oliver-Dowling
Name: Zoe Belle Oliver Dowling
Age:12
How did you become interested in athletics?
I became  interested in athletics because my brothers did it so I felt like I should join.
What do you most enjoy about doing athletics? I love to be active and outdoors also I get to meet new people and make new friends.
Are there any events that you don't like? (If so, list them) Shot put, discus, all long distance.   
What do you think your strength/s are and why? I think my strength is sprinting, because I know that I can excel in it and also its something I enjoy.
What do you think you need to improve on and why? Long jump, because I need to get taller and I need to spring at the plate not just step  and not get paranoid about what others think.
What do you like about training? I know that I will achieve something.
What do you dislike about training? I dislike the drive all the way to Hamilton and I can get tired.  
How important is athletics in your life and why?  (Rate between 1-10) I think athletics is an 8 out 10 for importance because I have the IP coming up. It's a team and an individual sport. So I feel like I can't let my team down or myself so I have to train and put lots of time into it.
Isabelle Stockton, Year 8, C1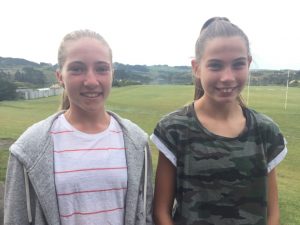 Zoe and Isabelle.
Options in Year 7-10
Year 9-10 Cooking Class Report
Earlier this month, our option class walked down to the wharf to watch Jason Messent demonstrate to us how to fillet fish. We are currently learning about Kai Moana and Sustainability. We have researched the New Zealand fish species, current fish stocks and ways that the New Zealand government ensure fish do not die out. We have learned about different categories of fish, such as vertebrates and invertebrates. We now know what to look for when buying fish to make sure that what we get is fresh, how to store it safely and different ways of cooking it. We also know what the nutritional values of several fish varieties, their relative texture and comparative oil content. We hope to get a visit in to Harbour Care before the end of the term as well.
While at the wharf, we watched Jason fillet several different fish including: gurnard, gem fish, lemon fish and snapper.
We noticed that Jason had to wear special clothes such as gumboots, overalls, a rubber apron and gloves. We looked at the equipment he was using and how he maintained the sharp edge of his filleting knife.
We were aware of the smell of fish and the constant sound of seagulls.There were lots of visitors there watching the boats, and customers buying either wet fish or ordering fish and chips. We arrived back at school in time for the buses.
Co-written by the Year 9-10 class.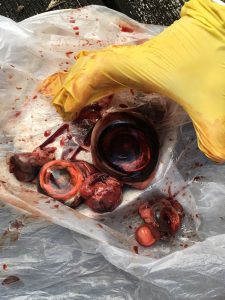 Some fish eyes that we were given.
Pop Up Globe – Drama Trip
Students were wowed as actors flipped, sung, performed in Te Reo, spilled blood and interacted with the audience in this fully interactive and hilarious performance of  A Midsummer Night's Dream.  Students responded that they felt  'exhilarated' 'pleased' 'excited' 'stunned' 'amazed' and 'thrilled' with the performance they watched at the Pop Up Globe in Auckland.
Extra Curricular
Sea Dogs – Surf's Up Dude
A trace of steps are left behind me engraved into the blotchy sand. My eyes find their way to glistening sea and for some reason I can't look away. Waves begin to form in the faint distance and meer seconds afterwards they clash down on top each other. They all slowly start to envelope and stumble towards me. The crisp water strokes along my feet and a slight giggle bounces off the tip of my tongue. In every direction clear blue skies with a few puffy cotton candy clouds are stretched out in the horizon. Right in the middle of the sky an immense luminous ball of light shines. Mr Lee shouts out "Let's hit the waves!" Everyone whisks over to the water and starts heading out into the cool ocean. Inch by inch I get covered in a blanket of water. I lie on my surfboard along with everyone else waiting for the perfect wave to catch. Out in the distance I see a wave starting to form and know that it's the one.I begin to paddle as hard as I can with the sounds of the wave coming closer towards me. Closer and closer until a vigorous force of power hits me. I glide along with the wave and push myself up into a firm stance. I keep looking forward and think to myself life is like the ocean, It can be calm or still, and rough or rigid but in the end it's always beautiful.
Theatresports Round 1 Results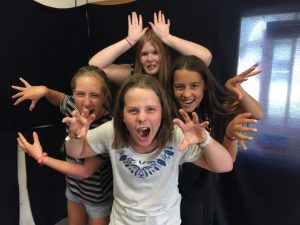 Raglan Area School's Junior Secondary School Theatresports team -The Barefoot Bandits – placed first in their match last week at the The Meteor Theatre in Hamilton. After all the round 1 matches, Raglan are sitting 3rd on the table, behind by only one point to first and second place – which are tied!
To make it to finals the team have to keep their position in the top 4 after 4 rounds of matches.  Keep up the fantastic work team! Go The Barefoot Bandits – Zoe Oliver-Dowling, Iemaja Hassell, Summer Maybee-Waitere and Leila-Rose Skeates.