Tena koe te whanau o Te Kura a Rohe o Whaingaroa
Greetings to all of our whanau and to our students.
This week we have sent out a questionnaire  from the student media team at school which we hope each family will complete and return so that we can move forward with the community and students advise. It is a very brief survey and I thank you in advance for completing, and returning them to the classroom teacher, they are due back to kura next Wednesday.
Due to unforeseen whanau circumstances, Whaea Tracy will not be able to complete this term as Long Term Reliever for E2.   We acknowledge her support of our kura and thank her for her mahi during her time with us.
We welcome  Whaea Hope Didsbury, who steps in as Long Term Reliever – Classroom Teacher, for the remaining 5 weeks of Term 2.
Whaea Chanel has resigned from the position of classroom teacher in  Te Roopu Aroha ki te Reo,  though you will still see her around kura continuing with the after school kapahaka. I know folk are delighted that she is still to be working with our students in this capacity and we thank her.
The Year 7-8s have set the target to walk the equivalent of the length of New Zealand today (Friday 8), we wish them well. The sun is shining, and I'm sure everyone will enjoy the day and reach the target of over 6000 laps to be walked!
The school break is coming up fast and I would like you to encourage seniors to be ensuring that they finish their mahi and have it handed in for assessments before the break so that it can be marked and recorded. If you cannot get past mono syllable answers then feel very free to contact the school re their obligations
Nga mihi
Malcolm
Hikoi Aotearoa
Hikoi Aotearoa is being walked today, in this glorious sunshine.  It's a beautiful sight to see our students, parents and teachers all walking together to achieve the distance of Aotearoa.
A Few Words
Out of the mouths of babes.  Today I was sitting in my office and overheard a student calling her mother on the phone.  There was an element of urgency in her voice as she explained that she had come first in the 'Junior Tough Guy and Gal' mud challenge.  Known as NZ's biggest mud run series, it seeks to push individual boundaries in a fun environment. I could hear the response from mum through the phone seeking clarification.
"They said it doesn't matter where we come it was just about doing it.  That's just what they say. And then we ran. We ran 3k's through mud and I was the first one who came in.  I was the first girl out of all the girls. Mum you owe me $100… I'll settle for $50 cash and a tub of ice cream."

The excitement from this moko and the clear shock coming from the phone indicated perhaps a very large incentive had been part of an early morning drop off conversation.  What I love about this moment is the share joy of success, the excitement to share with whanau and the satisfaction in meeting the challenges; that is of coming first, getting the $100 incentive and proving to herself and mum that she could actually achieve her goal.

I felt for this moko as she had excelled in this event yet was told just doing it was enough.  For her, clearly not. Coming first was something she had strived for. And as much as the participation I spoke of in the last newsletter is important, so too is celebrating excellence.  First place after a 3km run through mud and over obstacles on a cold day is an achievement. It is different to coming second or third, or completing the event. It is first. So congratulations Crystal for pushing your personal boundaries, motivated by incentives no doubt, but a reflection of what you can achieve when you set your mind to it.

Aroha Hohepa
Tumuaki Tuarua
Traditional Shotokan Karate-do Federation
Pictured is Kayla Stockman Bond with her merit award and gold medal after representing Raglan and competing in the TSKF Nationals in Turangi. On the left is her Sensei Maureen Stockman, and on the right is TSKF Federation Chief Mark Willis Shihan 9th Dan.
TSKF is Traditional Shotokan Karate-do Federation. We are a karate club, we train in the RAS gym on Tuesdays and Thursdays at 5.30. New members welcome, for enquires please phone Maureen 0220267383.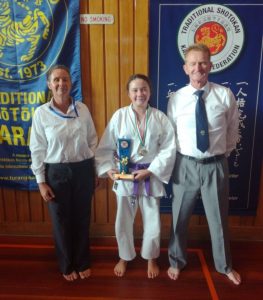 Book Review
Boy Overboard By Arie Koning
– The Story –
Jamal is a soccer-loving boy living in Afghanistan with his parents and his little sister, Bibi. He has a dream. A dream to be a soccer player in the World Cup.
However, Afghanistan is at war, and that causes many problems. Bibi accidentally steps on a landmine early in the story, and Jamal has to risk his life to save her. That is not the end of the problems, though, as the families' house gets blown up by the government. This boots the whole story up.
With no house and no place to live, Jamal's Mum and Dad make the decision to become refugees and migrate to Australia. Jamal and his family hide in a truck, cross the border, and end up in a refugee camp. With nothing to sell or trade, they are stuck between a rock and a hard place. Fortunately, a kid named Omar meets up with Jamal, and they become friends, which brings some comfort to Jamal.
When they finally try to leave for Australia, trouble strikes again, and again and again. The airfare is too expensive to go all the way, so the family have to choose a cheaper option, and Jamal and Bibi get separated from their parents.
In the end, the family get to their destination, but there is a little twist which I will not spoil.
-Background Information –
Boy Overboard is written by Morris Gleitzman, who is most famous for writing Once, Now, Then, Soon, and Maybe. Boy Overboard is his 18th book, which is actually a prequel to Girl Underground, but that's for another review. Boy Overboard was written in 2002. Although it is aimed at 8 – 12-year-olds, It is still a good read for all ages, as the book is 181 pages long and takes about four hours to read cover to cover. You can find it in most libraries as it is quite popular, even to this day.
– My Opinion –
This is an excellent book. Seriously. I've read it over three times now and it is still enjoyable. The only flaw I could find was that some parts drag on a little bit too long. The book is worth a few giggles, even though it is about a dark period of time. Gleitzman states that, "This is a story. It's not about an actual family, it's a story that I've made up." However, the book is inspired by real people and their very real journeys. Even though this story is fictional, it still gives the reader an insight about what happened Afghanistan at that period of time.
This book gets a solid 4.5 stars.
Lost Property
Just a reminder to check our lost property cupboard for any lost items.  We have a collection of shoes, hoodies, sweat shirts, hats and caps and load of other unclaimed garments
Acknowledgement
We would like to acknowledge Pete and Fiona Williams of Raglan Engineering Ltd, for sponsoring Raglan Area School students and family with tickets to the Annual Special Needs and Disadvantaged Children's Ten Pin Bowling Party hosted by Autism New Zealand Inc.
Skate Bowl Supervision
We have noticed there have been a few incidents at the skate bowl of late and Mr Copson, Whaea Gabrielle and myself thought it would be cool to have a group of parents and teachers who want to supervise on weekdays at the bowl. It would be great if the community could support us in this. Please let me know if you're interested.  Joe Rao 022 1751378
Sumo Slam
On Wednesday the 23rd of May, 2018, there was a sumo slam that took place at the Raglan Area School Hall. Students were in for a surprise as they did not know that instead of a regular assembly, they were going to witness this exciting event. Students Eli Grant-Swallow and Tehani Ralaimihoatra cover the event, interview the participants and organisers, and delve into the history of sumo.
In the first match, Whaea Georgina and Whaea Emily, both student teachers, took each other on. They both won a round each until the deciding feud. The tension was high until Whaea Emily finished Whaea Georgina off with an epic body slam.
Afterwards, the unsuspecting Whaea Ari was called to the ring by Matua Joe to face the formidable queen of the ring, Whaea Emily. "When I was called up by Matua Joe Rao to face the last winner, I thought he was joking. He wasn't. I knew I had to go up and face Whaea Emily no matter what. It encouraged me to go in the ring and fight when I heard the kids in my class saying, Jump in the ring Whaea, you got this,"
Pupils were laughing hysterically as they saw their teachers struggle in the stubby suits. Students came to the rescue in the last round to help the two contestants to their feet.
In the final round, Whaea Emily charged at her opponent. Whaea Ari stepped aside, and Whaea Emily went flying out of the ring. This left Whaea Ari the champion of the day.
Eli Grant-Swallow, Year 7, C4
Theatre Sports
On the 7th of May, four students, The Barefoot Bandits, competed in Round Two of the Theatresports Improv Combat Competition at the Meteor Theatre, Hamilton.
After leaving in success from their last round, they didn't quite triumph over the other schools this time. Suffering an epic defeat of lowest score, the team hopes to redeem themselves in the next round. The teams final score was 22/30, leaving them devastated as they received the lowest score of the night. Nevertheless, they kept up their team spirit and competed in Round Three, bringing their score up the leaderboard.
Due to their redemption in the third round, they will be moving onto the fourth round which will determine if they are headed to the finals, so keep your fingers and toes crossed. RAS for the win!
– Iemaja Hassell, Year 8, C1
The Moment Before Stepping on Stage
Subtlety, The Barefoot Bandits enter the theatre and in the corner of my eye, I see our opponents. Maroon, gold and black coloured uniforms which I suspect is Girls High, and cerulean blue which is Hillcrest. I now feel intimidated and even more anxious than I did a few minutes ago. To take my mind off the nonsense I decide to join the small talk all around me. All of the sudden, the host calmly walks across the stage to the centre and before I know it he is inviting the contestants to the stage. My mouth shrivels into a dry disaster and my blood begins flowing through my body one hundred times faster and I unbelievably feel like I have forgotten how all of the games work!
– Summer Maybee-Waitere, Year 8, C1
Why the BMX Prize was a Bad Idea
The RAS mountain biking club started last year in Term One and we normally go to the pump track down at the Te Kopua domain. We learn to do jumps and go fast around the track. Occasionally we go to the mountain bike track in the pinecone forest at the Ocean beach.
The reason for the BMX prize is so that the school mountain bike club could get more people to go. If they get more people to go then they could fill up two sessions a week. To win the BMX you have to go to all the sessions on the day you go each week. Then a name will be picked out of a hat and the winner will get the BMX. The BMX was a bad idea because a lot of people joined the mountain biking club so the old people couldn't go. Last year I learnt a lot from it and how can I learn if I never go. I learnt a lot from the mountain biking like: how to jump, how to go around sharp corners, and riding down hill while turning so we could get better at biking. If the BMX wasn't there none of the new people would join the club. It made me and my friends feel: sad, upset and left out because the new people were booking the week before. We didn't need to prepay before the BMX prize, so why should we have to now?
In conclusion, the mountain bike club wanted to increase the number of people going to it so they could do two seasons a week. To do this they did a bmx competition for the person that does mountain biking every week of this term. This person would win the bike. The bike competition was bad because to many people went so my friends and me could not go. None of those people would have gone if the BMX wasn't there. Everyone that missed out should still be in the draw to win BMX because it's not their fault that they couldn't go to mountain biking.
Writers Festival Haikus
Busy Auckland days
Pigeons all over the place
Stealing all my food.
Girls look for Starbucks
I just want something for lunch
Sushi? Why, yes, please.
Writer's Festival
Better than regular school
Thank you, Matua!
Connor Marquand, Year 10, M3
E3 Visits Lab
In Week 5, E3 class was invited to Mr C's science lab to experience science in action! We learnt about the changes in states of matter and experimented with what happens to a coloured ice-block when you apply heat. It didn't stay a solid for long! First it changed to a liquid, then evaporated into a gas, and lastly we saw the gas condense back into a liquid when it hit the cold beaker above. Something interesting happened with the colour of the gas. Ask an E3 scientist what the secret was!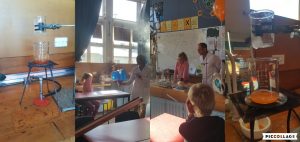 Barista Course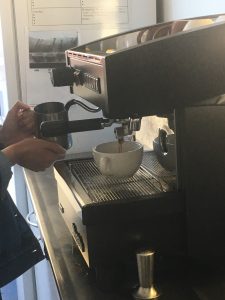 Eight senior students are currently working towards gaining accreditation for a Barista Course being offered during the winter. It covers all aspects of using an Espresso Machine including texturising milk, grinding beans and caring for the equipment. They will also learn how to make a filtered and a pressed coffee. This will provide them with 8 credits at NCEA Level 2 and a possible means of gaining employment locally
during weekends and term breaks.
We acknowledge Tony Bruce of Raglan Roast fame, for kindly subsidising the cost of our coffee beans.
Microplastics Investigation
We have been learning about how pollution is making our planet unlivable. There is so much plastic around, it is killing our fish and filling our ocean.
We wanted to know how much microplastic there is in the Whaingaroa harbour. We want to know where it is, how big it is, and how much of it there is. If you go out more towards the Kokiri, would there be more plastic than if you went to Te Kopua because of the fact that there are no waves?
We took a sand sample and a water sample.
For the sand sample we dug down 5cm, took out the top layer of sand, and put it in a bottle. For the water sample, we went in knee deep, submerged our bottles, then took the lid off to fill them up so that we didn't gather surface water. We did this is four places -the Kokiri, between the Kokiri and Te Kopua, Te Kopua, and on the school peninsula by the waka shed.
On our excursion, we came to a place near the Kokiri where a tree had fallen on the beach. It had plastics, polystyrene and rubbish tangled in it. We pulled it out and there was quite a lot. It means that there is quite a lot of plastic coming into Whaingaroa.
We haven't yet processed our samples, as we need the right tools. But from observation, we can see microplastics floating in our water samples.
Danielle Macdonald, Year 9, M1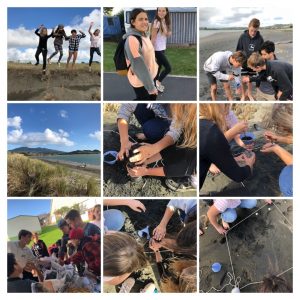 Disco Snapshots