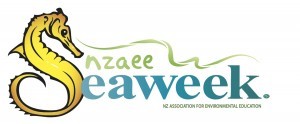 Seaweek 2015 is on now – Saturday 28 February to Sunday 8 March 2015.
The theme is "Look beneath the surface – Papatai ō roto – Papatai ō raro".
Check out our deep sea books on display . Did you know we have 255 books in Te Rapunga about the sea?
C4, a Year 1 class has given us some brightly coloured  "Googly Undersea Creatures"  art for Seaweek and even written a poem to go with their display:
A brightly coloured …
With a googly googly eye.
Out of his eye,
What does he spy?
He spies me,
As he hides in the sea!
Thanks too to Ngaramai and Herepo (Year 10s) for displaying other information posters and helping young students draw their own creatures at lunchtime too.
 C4 likes "Tiddler – the story telling fish" by Julia Donaldson.

Are you going to Maui's Dolphin Day this Sunday 8 March 2015?
Why not read about Maui's Dolphins before you go?
Browse our catalogue to see if we have the book you want – go to https://raglanarea.school.nz/index.php/students/library and click on "FAST FIND" in the left menu.