Mehemea ka moemoeā ahau, ko ahau anake
Mehemea ka moemoeā tātou, ka tāea e tātou
Ka puta ka ora paimārire
Ngā whakawhetai ki Te Runga Rawa
Kia tau āna manaakitanga ki runga i tō tātou Kīngi
Ki ngā mate o te wā, moe mai rā
Ki a koutou te whānau tēnā koutou katoa
Maungatautari
Hāngai pū ki tō tātou kaupapa matua i tēnei wā ako i puta atu te Roopu ki Maungatautari.  Tē kino hoki!
I reira mātou i ako e hia kē ngā akoranga hōu e pā ana ki tēnei o ngā maunga miharo nā Kahupeka i tapaina.  He Kākā tētahi mea kitea, e ihuoneone ana ki a mātou.  He Takahē me tōna hoa rangatira e whakatoi mai ana, ka mutu ko ngā kōrero whakamārama ana i ngā take matua e ākina ana i a tātou katoa ki te tiaki i ēnei taonga ā tātou katoa.
E rere ana ngā mihi nui ki ngā whanau i tautoko i tēnei whai wāhi rawe – Whāea Leanne rāua ko Whāea Liz.  Tēnā kōrua.
Tuesday lunch time mountain biking option
Tamariki tau 6-8….  Whaea Sam is inviting tuakana to join the Tuesday lunch time mountain biking option.  There is no cost, you just need your mountain bike and your helmet.  For more information please contact Whāea Kylie.
Ngā Rangatira Kapa Haka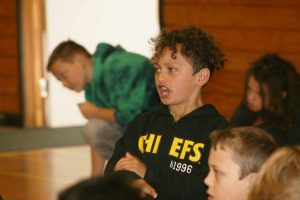 Ia Rāapa, mō te rua wāhanga ako i haere atu ai a Tawera hei pouārahi i ngā mahi kaha haka mo te kura teina whānui ki te kura nei.  Kātahi nā te rangatiratanga o ēnei tamariki pūrotu!!
Ka tū hei tauira kitea mā ngā tamariki; ka manaaki tangata e ako ana, ā, ka whakatinana i ngā tikanga ā kuia mā, a koro mā.  No reira e te whānau kia kaha ki te whakamihia i o rangatira e tū ake ai āpōpō!  Ka nui hoki te mihi maioha ki te kaiako e whakapau kaha ana kia ora ai tēnei tūmomo mahi Māori ki tō tātou kura.  Tēnā koe e Whāea Chanel.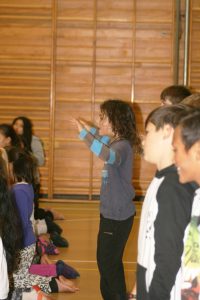 Piki Toka
Nā Rōena rātou ko Mako, ko Te Rū.
I tētahi wā i haere mātou ko ōku hoa ki te piki toka.  I piki ahau i tētahi toka nui rawa.  Whai muri i tērā i heke ahau i te papa.  Nā wai rā i huri ahau ki tētahi toka āhua rite ki te tuahangata.  I piki ahau, ā, i heke ki raro.  Nō reira kua pau te hau.  Engari i haere tonu ahau.  I te pai te mahi nā te mea i noho roa mātou ki te piki toka.  Ka tau kē!