The 5oo's Month (also known as September!)
Wow – it's been great to help so many of you with your research for your Science Fair projects.  All the books in the 500's section of Te Rapunga are enjoying your hard work and action, so that's why we're calling September in the library "The 500's month".
If you can't find a book on your topic, then for a quality internet search, go into our EPIC "Science in Context" database. See us if you can't remember our school username and password.
Most libraries including our library, use the Dewey Decimal System to classify non-fiction material. Subjects are divided into ten main groups which are represented by series of numbers. For example you'll find books about Science in the 500's section of Te Rapunga.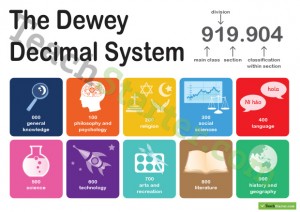 And then within the 500's, you'll find that each science topic has a number.  For example for  books about Light see 535, for Birds see 598. For a full list of classifications click here
Make a note of the Dewey number for your favourite subjects and you can always find a good book!  Personally I like 820 – the poetry section!
So, have you understood this information?
Come in to Te Rapunga and test yourself –
What subject will you find at 520 ?
What's the Dewey number for the books about Electricity?
What's the  Dewey number for your favourite subject?
Answer these questions and go in the draw to win a prize!
August was a NZ Book and Writing Feast!
Between Word Café Raglan 2015 and the NZ Book Awards in August – we found so many cool new books to read. Te Rapunga has purchased all the books which were finalists – come and get one out now! Can you see Whaea Marian holding the one of these books?
The Winners of the 2015 New Zealand Book Awards for Children and Young Adults were:
But the votes are in for the 'RAGLAN PICK' for Best Picture Book in 2015:
First Pick — 42 votes –  Little Red Riding Hood – Not Quite by Yvonne Morrison
Second Pick – 36 votes – Jim's Letters by Glynn Harper
Third Pick – 25 votes – "I am not a Worm" by Scott Tulloch
Fourth Pick – 12 votes – "Keys" by Sacha Cotter and Josh Morgan
Fifth Pick – 2 votes- "Construction" by Sally Sutton.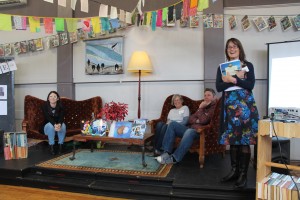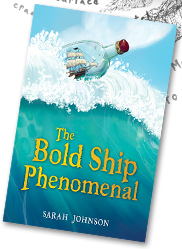 Congratulations to local author Sarah Johnson who has launched her new book, "The Bold Ship Phenomenal"  and even donated a copy to Te Rapunga.
…Malachi's life is dull, dull, dull. Dad's always busy and school is dreary, especially science. Then Malachi finds a mysterious bottle on the seashore, and things start to get exciting.
Word Cafe Raglan  2015 Writing Competition Winners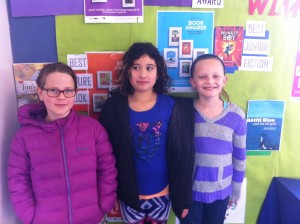 Congratulations too to all the new student writers, who entered this competition and  the winners of each Year group in particular.
There were over 60 student entries –  a big thanks goes out to Marian and Malcolm Cox for all their weekend judging!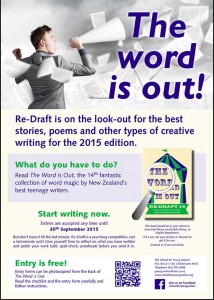 If you are Years 9-13, check out another Writing Competition – this time to get published! Closing date 30 September 2015.
This competition is run by the School for Young Writers, who publish the series "ReDraft" each year and which is "a not-for-profit organisation founded in 1993 and based in Christchurch, New Zealand, …[offering] tuition to young writers anywhere in the world."