This year we took a team of eight Year 9 and 10 students over the hill to Cambridge to compete in the Waikato Regional Get2Go Challenge. This was a full on day of activities that saw our team competing against the best high school teams in the Waikato. They began with a kayaking/paddle boarding challenge on lake Karapiro where we kept up with the top teams! We then sprinted around the Karapiro domain in an orienteering challenge, before heading into Cambridge for a mind boggling, body breaking, teamwork challenge like no other.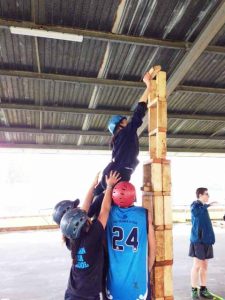 The final challenge was a mountain biking relay where again Raglan gave an awesome effort. In the end we placed 10th out of 24 teams, which was an epic result. Next year we will be aiming for the number one spot, whereby teams get to go to Great Barrier Island for a week long national Get 2 Go competition.
Congratulations to Sasha, Paris, Lydie, Tina-Marie, Andre, Duran, Emanual and Kana.